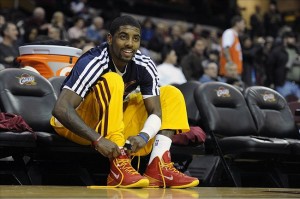 The oft-injured Kyrie Irving has remained true to form and has suffered another setback. His left knee buckled in a game earlier this week basketball fans held their collective breath in fear of it being those three letters. You know the ones.
Luckily, it wasn't and is being diagnosed as a knee bruise. Dating back to his one year at Duke, Irving has had to deal with a major injury every year. Looks like this will follow him througought his career.
The Cleveland Cavaliers rang in 2014 with some encouraging news: Kyrie Irving's left knee is only bruised.

The All-Star guard did not sustain structural damage Tuesday against the Indiana Pacers and is not expected to miss any significant time. An MRI revealed a bruise, the team said Wednesday in a statement. Irving will have treatment, get continued evaluation and is listed as questionable for Cleveland's game on Thursday night at home against the Orlando Magic.
H/T: USA Today