The summer isn't over yet, there are still a lot of basketball to be played. That being said, the AND1 brand looks to end the the season off right with the AND 1 Labor Day Summer Remix event in Philly.
Spaning from August 29th to September 1st, the AND1 Labor Day Summer Remix takes place at Temple University and features a $100,000 winner-take-all tournament as well as a $10,000 slam dunk contest. The tournament will be single-elimination and is free for teams to participate.
Flagship AND1 athlete Lance Stephenson is putting together a team of players chosen from open tryout runs from around the country. Shawn Kemp will also be on-hand with a team made entirely of players from the Seattle area which is fitting due to his former Supersonics affiliation.
Other notable coaches come from the music industry and include Jermaine Dupri from So So Def records & Michael Bivins formally of Bel Biv DeVoe.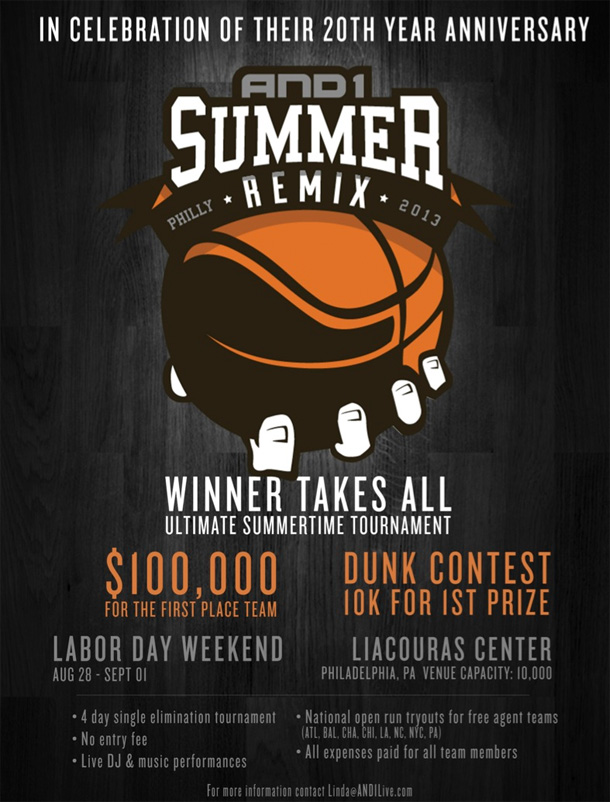 Follow our Kicks section on Twitter & Instagram. Use #THDKicks to join in the conversation.

Ben Berry wrote this.
Add Ben to a Google+ circle of yours and follow his Twitter feed.