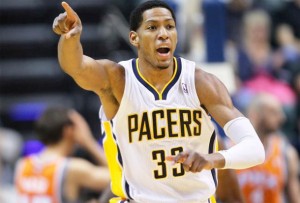 These Danny Granger trade rumors just won't go away for the Indiana Pacers and I, for the life of me, cannot figure out why.
I understand the Pacers have the third-best record in the Eastern Conference. I understand that they've won a franchise record nine in a row at home and two straight over conference superiors in the Miami Heat and New York Knicks. I understand that they're second in points allowed per game (89.5). And I most certainly understand they've done all this without Granger.
But I've said it before, and I'll say it again: Indiana is a better team with (not better off without) Danny Granger.
And yet, these damn trade rumors still just won't go away.
The latest rumors have come from ESPN.com's Chad Ford, who said that he fully believes Granger will be donning a different uniform by next season:
: "I fully expect that by the start of next season Granger will be wearing a different jersey. The challenge right now is how to bring him back, prove to teams he's still a pseudo-All-Star so that his trade value is high, and not disrupt what's happening in Indy. George is the future of the franchise and Granger's absence has given him the opportunity to emerge. They can't mess with that. But they don't want to sell Granger for pennies on the dollar. Lots of veteran teams would be interested in him if they are comfortable that he can stay healthy. Look for Golden State, Toronto, Houston, Dallas to all pursue."
Are you kidding me?
I get that Granger is due more than $27 million between now and next season, but this is the Pacers' leading scorer from last season we're talking about. A production level of 18.7 points and five rebounds per game doesn't come cheap, after all. I mean, Memphis Grizzlies are paying a few million more annually to Rudy Gay to average less.
OK, bad example. But you get my point.
Granger gives the Pacers a proven go-to scorer, something Paul George cannot even offer them at this point. He stands to correct their 29th-ranked in ways no one else on the roster can.
Bear in mind that only last season, Indiana scored 7.7 points more per 100 possessions with him on the floor, compared to when he was on the bench. And for those worried that he'll aid in the demise of one of the league's top defenses, it's also worth noting that without him on the floor, the Pacers allowed 105.7 points per 100 possessions last season. With him on it, though? That number fell to 102.2.
And if that's not enough to sway you, there's also the fact that Granger held opposing small forwards to a PER of 12.7 per 48 minutes when on the floor, well below the league average of 15.
So, not only does Granger enhance a docile offensive attack, but he strengthens an already stalwart defensive one as well.
How is someone like that expendable?
He's not.
Not if the Pacers wish to keep pace with the likes of the Heat and Knicks well into the spring. Not if Indiana is serious about elevating its status throughout the entire league.
And certainly not if the Pacers wish to contend for anything more than mediocrity.
Dan Favale is a firm believer in the three-pointer as well as the notion that defense doesn't always win championships. His musings can be found at Bleacherreport.com in addition to TheHoopDoctors.com. Follow @danfavale on Twitter for his latest posts and all things NBA.