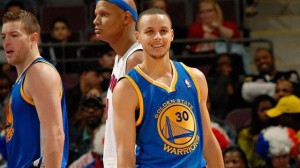 Stephen Curry should have been selected to the 2013 NBA All-Star…we think.
Though the point guard is having a career-year en route to rendering the Golden State Warriors legitimate contenders, he was passed over for the All-Star game in favor of James Harden, Tony Parker and Russell Westbrook. But was such a snub justified?
I say "snub," because that's what this is. Curry should have been an All-Star. He's averaging 20.9 points, 4.1 rebounds, 6.6 assists and 1.7 steals per game, while shooting a 46 percent clip from beyond the arc, the second-best in the league. Only three other players in the league are averaging at least 20 points, four rebounds, six assists and one steal per game. Their names? LeBron James and Westbrook, both of whom are All-Stars themselves.
Now, how's that for good company?
Again, one quick look at the numbers (and Golden State's 26-15 record) shows us that Curry should have been an All-Star. And yet, I can't help but acknowledge his snub was an understandable one.
Why?
Because the Western Conference isn't like the Eastern Conference.
When you look at the Eastern Conference's team, you can easily see that a guy like Brook Lopez deserves to be there more than Kevin Garnett or Chris Bosh. Or that a guy like J.R. Smith possibly deserves to be there more than Paul George or Luol Deng.
But when you look at the Western Conference (at least their backcourt), you can come to no such conclusion.
Kobe Bryant and Chris Paul were voted in as starters and rightfully so. Bryant is second in the league in scoring (29.2 points) and Paul is second in assists (9.7); both are having career-years at their position. Really, the only way we had a case for an unjustifiable selection here was if Jeremy Lin was voted in over, well, anyone.
When looking at the West's backcourt reserves, it's hard to refute the coaches selections as well. Harden is having the best statistical season of his career. He's fifth in the league in scoring (25.8) points and averaging a career-highs in points, rebounds, assists, steals and blocks a night. He more than deserved to be chosen for his first All-Star game.
Much of the same can be said for Westbrook. Not only is he averaging a career-high in assists, but he's the only player in the NBA to be among the top 10 of points (23.7), assists (8.1) and steals (1.9) per game.
Moving onto the last backcourt selection we have Parker. His 19.8 points per game are 11th in league and his 7.4 assists rank seventh. At 30 and having already been selected to four All-Star games, there's a potential case to be made that Curry should have had his spot, yet you'd be hard-pressed to prove it outright. Perhaps Curry did deserve this spot more, but it wouldn't be by much and it's not as if Parker didn't deserve it.
So here we have our problem–the West is too stocked with talent.
If Curry was putting up those kinds of per game stats in the East, he'd probably be starting. But he plays in the West, where talent, especially in the backcourt, runs rampant.
Is this to say he has not distinguished himself enough from the pack?
Absolutely not, because he has. And he definitely deserved to make the All-Star team. The only problem is so did the five other guards who were voted in for the West. As is the problem with that conference.
Thus, I feel compelled to remind you that in an age where debates reign supreme at the NBA level, it remains highly unlikely everyone would be pleased with the All-Star selections.
Except in the West, where it's actually impossible to please everyone. There's simply too much talent.
Just ask Stephen Curry.
Dan Favale is a firm believer in the three-pointer as well as the notion that defense doesn't always win championships. His musings can be found at Bleacherreport.com in addition to TheHoopDoctors.com. Follow @danfavale on Twitter for his latest posts and all things NBA.