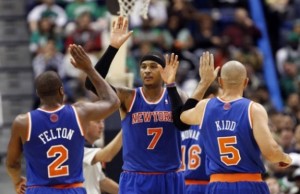 There's an age old adage that dictates defense wins championships. For the New York Knicks, though, it's been perseverance that will allow them to contend for a title.
New York is the NBA's only undefeated team at the moment, a feat few could have fathomed for this Knicks squad that is not only the oldest in league history, but without the likes of Iman Shumpert and Amar'e Stoudemire. And yet, they've persevered, to the tune of six straight wins.
Incredible.
That's the only way to describe it. Their defense has been impenetrable, their offense has been on point and they're the league's best three-point shooting team in the Association.
But none of the aforementioned things would have pushed the Knicks toward perfection on their own. This team is exuding something more than efficiency and self-awareness—they're conveying will.
Though New York's first five wins were impressive—they came by 10 or more points—it was their victory against the San Antonio Spurs that really stands out; this is the win that really made believers out of not just some, but everyone.
The Knicks didn't play their best basketball against the Spurs. Sure, they shot a relatively high percentage from the field and continued their prowess from the behind the arc, but they're defense was porous, they went through scoreless spurts and there were times when the ball just wasn't moving on offense.
And yet, the Knicks persevered. They willed themselves to victory using teamwork.
Carmelo Anthony scored just nine points in that game, but he grabbed 12 boards, dished out three assists and relied on Raymond Felton, Jason Kidd and J.R. Smith to carry the offense.
Which is huge. Not just because Anthony is a star struck scorer who loves to shoot, but because he trusted in his teammates enough to realize he didn't need to shoot, and the Knicks could still win. Which they did.
That's the kind of unity this team has built, the kind of resiliency they have shown. They're playing like champions, despite being battered and widely discredited by peers and pundits.
Which is comforting. Because for a team to truly contend, to truly be considered a powerhouse, they must respond when they're backs are up against a wall.
The Knicks' backs have been up against a wall all season, and they've responded by being perfect.
Not statistically, not structurally and not cosmetically, but emotionally.
And sometimes that's all that matters.
Dan Favale is a firm believer in the three-pointer as well as the notion that defense doesn't always win championships. His musings can be found at Bleacherreport.com in addition to TheHoopDoctors.com. Follow @danfavale on Twitter for his latest posts and all things NBA.