August 21, 2012 – The Hoop Doctors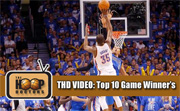 Even though there were less games played in this lockout shortened season, the 2012 year was chalk full of excitement on a nightly basis. It was extremely difficult for us to whittle down all the buzzer beaters and game winning shots to a Top 10 this year, but here is our best effort at showcasing the Top 10 Game Winning Shots of 2012.
Is there any you think we should have had in our Top 10?