October 14, 2011 – Allen Moll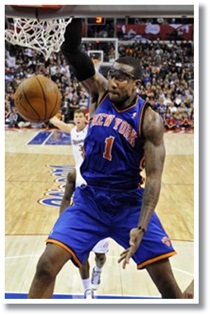 With the NBA indefinitely on hold due to the lockout, fans have been yearning for someone to get dunked on. If you had the chance to see some highlights from the many pro-am and celebrity games that have been taking place all across the country, then you know that nary a lick of defense is played in those games, so your chances of witnessing a posterization are pretty slim.
But if you are like me, nothing beats a good old fashioned facial, or poster dunk. I just can't wait to see another rim wrecking throw-down, like the one that Dwyane Wade served up on poor old Anderson Varejao of the Cavaliers last season.
Two of the most vicious throwdown artists that we have currently in the NBA are Ama're Stoudemire of the NY Knicks and reigning Rookie of the Year and Dunk Champ Blake Griffin of the LA Clippers.
Stoudemire already had an impressive library of facials with the Suns before adding a few more poster dunks as a member of the Knicks.  Just ask Lebron and Greg Monroe, two of his victims this year.
Blake Griffin's dunking exploits this season have already become legendary, but he seemed to get some pleasure in taking it to Amare's own Knickerbockers squad whenever the Clippers played at MSG. Surely everyone now remembers Blake's rather beastly night back in November when he tallied an eye-popping 44 points and 15 boards in addition to obliterating former Knick Timofey Mozgov.
While at the ESPN studios, Ama're definitely was thinking about getting semi-posterized by Blake late last season, as STAT took it upon himself to get some measure of revenge and dunk all over Mr. Griffin at the end of an interview…Funny stuff.
Ama're Stoudemire Posterizes Blake Griffin:
Allen Moll has been a lifelong NBA and NCAA College Basketball fan who watches and studies games religiously, and coaches youth basketball in his native Lehigh Valley region of Pennsylvania.  Allen also provides content to Bleacherreport.com, Upperdeckblog.com, in addition to being a tenured NBA and NCAA columnist for TheHoopDoctors.com.