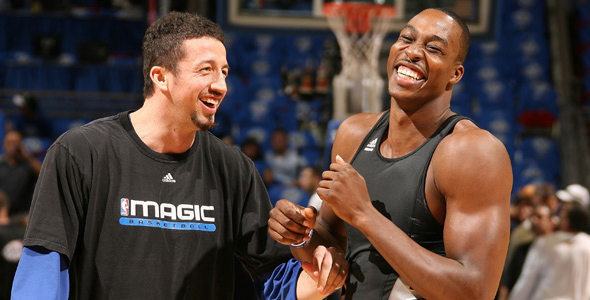 December 21, 2010 – Kevin Burke
Last summer before the season began, Dwight Howard told The Hoop Doctors that despite the Miami Heat forming an Eastern Conference All-Star squad, and the Boston Celtics adding size on their front line, he felt as if his Orlando Magic were the best team in the East. Well, he had to say that but I'm willing to bet that deep down he didn't even believe that himself. But I'm sure he does now. As you found out here, the Magic just dealt Vince Carter, Mickael Pietrus, and Marcin Gortat to Phoenix in exchange for Jason Richardson, Hedo Turkoglu, and Earl Clark. That alone can appear as a wash to some, but we also told you that in a separate deal, the Magic scooped up Gilbert Arenas from Washington for Rashard Lewis. Does all of this make Orlando the team to beat in the East?
A week ago, the Magic had the type of team that would make it to the playoffs every year, tease the faithful in central Florida, and head home without a ring. Basically, the Magic of a week ago weren't impressive enough to win a championship. Personally, I was both surprised and confused as to why the Magic basically did nothing this past off-season in terms of free agency. Everybody and their second cousin were making significant deals except Orlando. For a team on the cusp, I thought they would've made a splash. However, such wasn't the case. They more than made up for it though.
Miraculously, both deals favor the Magic. I still like Vince Carter (15ppg, 4rpg) and think he has some gas left, but I'm willing to be the Magic wanted more out of Pietrus (7ppg, 3rpg)  and Gortat (4ppg, 4rpg). Insert Jason Richardson (19ppg, 4rpg), fan favorite Hedo Turkoglu (10ppg, 4rpg) and young, seldom used Earl Clark (3 ppg, 2rpg) and the Magic are instantly a better team. Richardson resurrected his career in Phoenix and I fully expect that to continue that down in Orlando. Turkoglu was a key contributor to the Magic team that ultimately lost to the Lakers in the Finals a few years ago so maybe he can pick up where he left off with them.
That deal alone makes the Magic better, but nothing to write home about. The Arenas/Lewis deal is why you can now mention the Magic when you talk about the best teams in the East. Ever since Arenas' gun incident last year, the Wizards have been dying to get rid of him so that they can wipe the slate clean of any negative vibes. They seemed almost desperate to do so. This move proves that theory correct because simply receiving Rashard Lewis back for Gilbert is nothing short of a joke. Yeah Gilbert's stock has fallen because of the PR nightmare that comes with him, but damn. Rashard Lewis? Rashard was a good player in Seattle but that was a very long time ago. Especially since there isn't even a team in Seattle anymore. Since arriving in Orlando, his number have fallen dramatically and this is his worst season so far with Orlando. Last year in the playoffs, he was passive and non-existent and questions began surfacing as to how good he really is. He doesn't play with any passion anymore and leaves alot to be desired from someone of his size.
I make it no secret that I'm still very high on Gilbert. His ignorance aside, he's still a very good player and a few short years ago he was probably a Top 5 offensive perimeter threat. This year it looks like he's playing with no heart or emotion as a result of what he's done to himself and because he was replaced as face of the franchise by John Wall. He's still been productive, but I think a new environment is exactly what he needs.
But the Magic already have a Point Guard. A very good one too. For just about all of his career, Gilbert has played the Point but I've always thought that he'd be better as a 2. His best attribute is scoring, not passing and teams should maximize that. In his last full, healthy season, he averaged 28ppg. No Point Guard should score that much. Orlando should use him as the scorer that he is.
With this deal, and when everyone is healthy, the starting 5 could be:
PG – Jameer Nelson
SG – Gilbert Arenas
SF – Jason Richardson
PF – Brandon Bass
C – Dwight Howard
You'd also have Hedo Turkoglu, Quentin Richardson and J.J. Redick coming off the bench. I don't know about you but that sounds pretty formidable.
Despite what upstart teams like Chicago and New York have done recently, Miami and Boston are the class of the East and you can't discount what they are doing. Miami has won 12 in a row and give up the fewest points in the NBA. The Celtics have won 13 in a row and surrender the second fewest points in the league. Each of these teams have certainly hit their stride and look very good right now. But with the moves that Orlando just made, if you told me that they could be considered the best team in the East, I wouldn't think you were crazy.
If you're looking for your everyday, predictable basketball talk, then go somewhere else, because Kevin Burke of The Kevin Burke Project brings provocative, thought provoking content about basketball as only he can. Kevin also hosts The Hoop Doctors weekly podcast show, which you can subscribe to for free on iTunes. Follow Kevin on Twitter and Facebook