November 10, 2010 – THD Rumor Patrol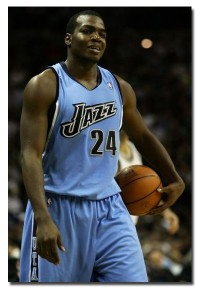 When you look at the big three in Miami on paper, you can't help but say wow, they are unstoppable. But even Superman had Kryptonite as a weakness. Not that i'm trying to be comparing the Miami Heat to the power of Superman, in fact they are far from it. But regardless of the extent of their strengths, the Heat do have a glaring weakness when you look closely at their make up.
Interior defense.
It's doing to be the death of them if they don't do something to fix it before the trade deadline. They need a big body to clog up the paint. In hindsight, maybe they should have swallowed their pride and grabbed Shaq in the off-season when he was available. They definitely need to do something now though. When you have a 6-8, 250lb bruiser like Millsap shredding you in the fourth quarter like he did last night, you need to wake up and realize that a thin Chris Bosh, and Joel Anthony aren't going to cut it come playoff time in the physical battles. You need a warrior in the middle.
Dwyane Wade had 39 points. LeBron James had a triple-double. The Miami Heat had a 22-point lead.
The Utah Jazz were unimpressed on all counts.
Paul Millsap scored a career-high 46 points—11 coming in the final 28 seconds of regulation as Utah rallied from eight down—and the Jazz stunned the Heat 116-114 in overtime on Tuesday night.
"I guess when it rains, it pours," Millsap said.
Utah never led by more than three points, which didn't matter. The Jazz had more than enough at the end, and Francisco Elson's free throws with 0.4 seconds left won it.
"At some point in the year, unfortunately, we have to go through something like this," Heat coach Erik Spoelstra said.
It's still early, but Utah can make an argument for being the NBA's comeback kings so far. The Jazz rallied from 18 points down to beat the Los Angeles Clippers on Saturday night, and dug themselves an even bigger hole this time around, trailing by 22 in the second quarter and 51-32 at halftime while getting run out of Miami's building.
Deron Williams had 21 points and 14 assists before fouling out late in regulation, and Andrei Kirilenko(notes) scored 16—including a 3-pointer with 1:50 remaining, after which the Jazz wouldn't trail again.
"It's speechless, to be down like that to a team like this and to come out with a win," Millsap said. "We clawed our way out of it. But this says a lot about our team."
Read more details via AP on Yahoo.com