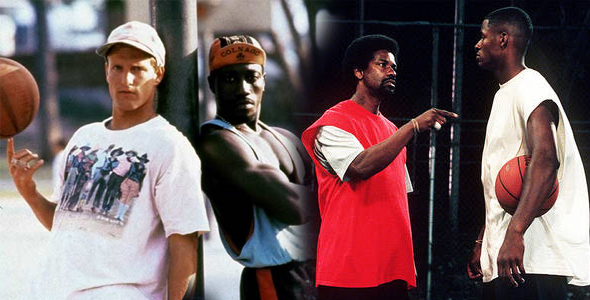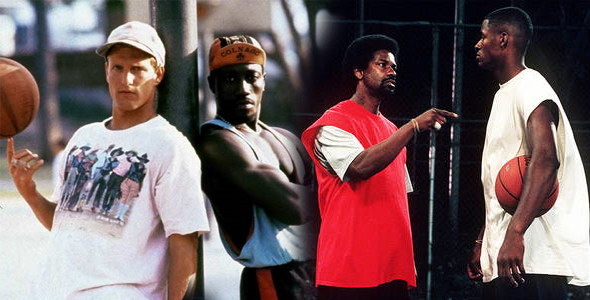 October 15, 2010 – Kevin Burke
There's nothing better than a good basketball movie. When they're done correctly, it can be a work of art. Being a good actor is one thing, but being able to pull off natural-looking, believable basketball moves on the silver screen is another thing. For the most part, these are accomplished in two of my favorite basketball movies: White Men Can't Jump and He Got Game.
Since you've already seen both movies (please tell me you've seen them both), I won't insult you by giving you a full description of each. Instead, I'll just quickly recap them and give you what I like about each movie. Let's go in chronological order and start with White Men Can't Jump.
What an epic film. At first, their eventual chemistry was in question because Sidney Deane (Wesley Snipes) and Billy Hoyle (Woody Harrelson) didn't really see eye to eye. Sidney was the trash talking type, while Billy was the quiet sharp shooter. Their relationship got off on the wrong foot when Billy showed Sidney up in a shoot-out in his own neighborhood. It turned out to be a good thing because Sidney saw it as an excellent reason for them to go into business with one another by hustling competition.
What was so good about this movie is that the basketball was believable. Both Snipes and Harrelson actually hold their own quite well. There's nothing worse than watching a basketball movie when the lead can barely dribble, or they shoot a two-handed set shot because they don't have a lick of game running through their veins. That wasn't the case at all here.
Here's a classic clip from the shootout between Sidney and Billy:
Then you have Spike Lee's He Got Gamestarring none other than Ray Allen, who played Jesus Shuttlesworth. Spike made it no secret that he admired Ray's game when he was a member of the Milwaukee Bucks. As you know, Spike is probably the most famous (or infamous, depending on how you look at it) Knicks fan there is, but whenever Ray's Bucks would visit the Garden, you could see Spike watching Ray extra carefully. Spike approached Ray about the role (during halftime of a Knicks-Bucks game), paired him next to the great Denzel Washington, and the rest is history as they say.
This movie is a classic because you have cameos from actual NBA players. Of course you had Ray Allen, but there were also appearances from Shaq, MJ, and Reggie Miller to name a few, while Travis Best and Walter McCarty played as Ray's high school teammate. Dick Vitale and John Thompson showed their faces as well.
But you know the story, right? Jesus is the nation's top high school basketball prospect. His father, Jake Shuttlesworth (Denzel) is in jail for accidentally killing Jesus' mother. Jake is granted a temporary release so that he can convince Jesus to attend the college that the governor went to so that he can be released from jail sooner.
The ball playing was real, of course, because Ray Allen played the lead and surprisingly, Denzel held his own on the court too. But this was Ray's first time acting and you could tell at certain points. But that really didn't take a away from the movie.
Here's the clip of Jesus' days in high school:
Both films are great, but for my money, I have to go with White Men Can't Jump. I enjoyed the story line better, and both the acting and basketball playing were both believable. He Got Game was good, but not as good as White Men Can't Jump.
Which do you think was the better basketball movie between these two?
If you're looking for your everyday, predictable basketball talk, then go somewhere else, because Kevin Burke of The Kevin Burke Project brings provocative, thought provoking content about basketball as only he can. Kevin also hosts The Hoop Doctors weekly podcast show, which you can subscribe to for free on iTunes. Follow Kevin on Twitter and Facebook