May 28, 2010 – Allen Moll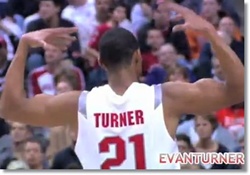 In virtually any other year, Evan Turner, who was named the 2010 NCAA Player of the Year, would have been selected #1 overall in the NBA Draft. While some argue that this year's probable #1 pick John Wall has a higher ceiling as far as potential, Turner has the skill-set and experience to come in and help a team out right away. Surely the Philadelphia 76ers must be thrilled to have the #2 pick in the upcoming draft and in my opinion, would be absolutely out of their minds not to select Turner come June 24th.
Now just in case you have been living under a rock this college basketball season, I feel it's my duty as thehoopdoctors.com's resident NCAA hoops writer to get you up to speed on one of the best all-around players in Ohio State history. All that Turner has done this season is lead the Big Ten Conference in scoring(19.5 ppg) and rebounding(9.4 rebs), while also ranking in the Top 3 in assists(5.8 ast), and steals(1.8). During the regular season, he even pulled off a true rarety in the college ranks, a triple-double in points, rebounds, and assists an impressive two times within his first 8 games. He reached double figures in rebounds in 19 of 31 games as their de fact point guard, and helped lead the Buckeyes to a 29-8 record, a Big Ten Conference Tourney Title, and a deep run into March Madness which ended with a loss in the Elite 8 to the Tennessee Volunteers.
All season long Turner has ranked among the top players in our monthly NCAA POY rankings. He has also graced our pages of our site seemingly on a daily basis for his penchant for high degree of difficulty plays like his 360 slam vs West Virginia and his near 40 foot buzzer beater to win a game in the Big Ten Tourney Semi-Finals.
If you need further evidence, check out this brand new Evan Turner Ultimate Highlight Mix:
Allen Moll is an avid NBA and College Basketball fan who watches and studies games religiously and coaches youth basketball in his native Lehigh Valley region of Pennsylvania. Allen is a regular columnist for thehoopdoctors.com, Bleacherreport.com, UpperDeckblog.com, and his own site, Hoops Haven.