March 6, 2010 – Allen Moll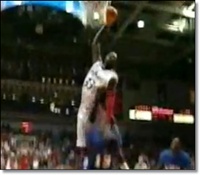 While it's been tough to find quality NCAA dunk footage recently, I've managed to put together yet another Top 5 Dunks of the Week in college basketball. While the list may expand a little past the one week mark, these rim rockers will definitely keep you entertained.
In our last Top 5, we saw dunks by some of the NCAA's less heralded jammers like BC's BJ Raji and Virginia's Mustapha Farrakhan. This time around our list is taken up my some of the best players in the country like Kentucky's John Wall, who gets revenge on Georgia's Travis Leslie for posterizing DeMarcus Cousins, back in January, and Ohio State's Evan Turner, who pulls off a 360 against WVU.
Did your favorite NCAA dunker make the list?
#5 – Maryland's Jordan Williams Poster Against Duke
#4 – Evan Turner's 360 Two handed Slam against West Virginia
#3 – UConn's Stanley Robinson's Windmill vs Pitt
#2 – John Wall's Left Handed Jam over Travis Leslie of Georgia
#1 – Cinncinnati Freshman Lance Stevenson Going Up the Ladder vs DePaul
Allen Moll is an avid NBA and College Basketball fan who watches and studies games religiously and coaches youth basketball in his native Lehigh Valley region of Pennsylvania.  Allen is a regular columnist for thehoopdoctors.com, Bleacherreport.com, UpperDeckblog.com, and his own site, Hoops Haven.