January 20, 2010 – Dr. Anklesnap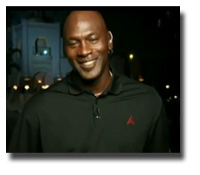 With all the controversy between Jay Leno, Conan O'Brien, and NBC in the last couple weeks, what better way to win back some audience support than have Michael Jordan on your show to answer some questions. Like c'mon who doesn't like the G.O.A.T.?
But if you are able to pull the strings necessary to get MJ on your show (albeit by video stream from the bahamas), wouldn't you take the time to think of some good questions to ask to make it with MJ's while? Well not comedians like Leno of course. He'd rather know who the worst golfer MJ has ever played against, or how often his airness gets a manicure or pedicure!
However, as NESW sports pointed out, probably the dumbest question of all had to have been 'can you still dunk'? C'mon Jay, obviously his airness isn't in a wheelchair or anything yet. The man still has enough hops to get the ball over the rim. We'll leave you to watch the video for yourself, but with the wise words of Michael Jordan himself…"Are you Stupid?".