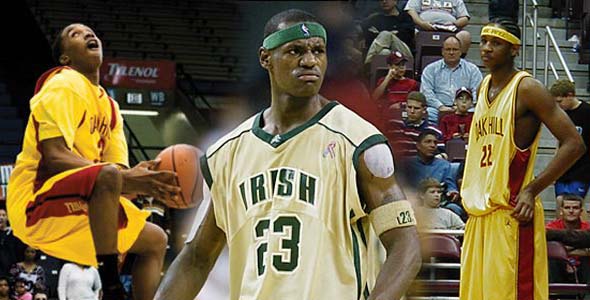 May 21, 2009 – Dr. Browntorious
The writer of our 'Below the Rim' series, Michael Pina, did a nice job explaining some of the excitement around the possibility of a Lebron James vs. Carmelo Anthony NBA Finals. For me, i've been thinking about that possibility ever since the two came into the league together and had their first battle on an NBA floor. While 'Melo spent a year in college winning a national championship with Syracuse, Lebron chose to make the jump straight from High School to the NBA.
But the Lebron vs. Carmelo talk has been around much longer than just 2003 when both players were drafted in the Top 3 of the NBA Draft. This rivalry/friendship has gone back years before that to their battles in high school. What you may or may not be aware of is that Carmelo's Oak Hill Academy actually beat Lebron's St.Vincent-St.Mary in a match up that proved to be a head to head battle of two high school titans. The more I think about a possible replay of that epic high school battle, but this time on the world's biggest stage in the NBA Finals, the more I root for the Nuggets to beat the Lakers and the Cavaliers to beat the Magic in their respective conference finals.
Yesterday, i'm web surfing my absolute favorite spot for high school basketball news, stats, and video, (it's called HighSchoolHoop.com) and I came across this highlight video from that epic battle between Lebron and Carmelo in high school. I immediately knew you guys would love it.
And if you aren't familiar with HighSchoolHoop.com you definitely should add them to your RSS feed for a daily look. They've got all sorts of intel and coverage on the high school scene.