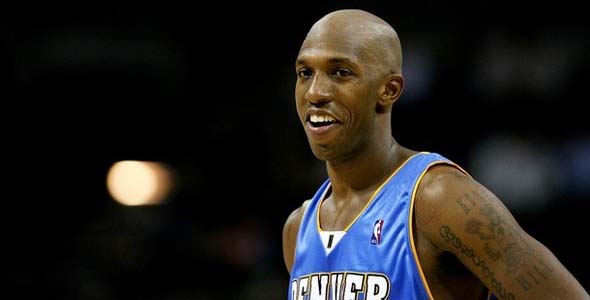 May 21, 2009 – Dr. Anklesnap
He is known in Detroit and now in Denver as "Mr. Big Shot" or "Big Shot Billups". He has earned that nickname by finding ways to score late in quarters, halves, and games when his team needs a score. Denver point guard Chauncey Billups is just one of those players that seemingly never feels the pressure of the moment. He just knows how to execute and has a steady hand doing it.
Tonight at the end of the first half of the Nuggets-Lakers Game 2, with only a few seconds left on the clock, Denver had possession on the inbounds. Surprisingly, George Karl had Mr. Big Shot inbounding the ball instead of taking the last second shot. Did that stop Billups from coming up big and scoring for Denver? No way.
You may be wondering how, right? By 'punking' one of the greatest players in the game, Kobe Bryant, with a well known playground move. Chauncey Billups when inbounding, noticed that Kobe Bryant had his back to him. So he just bounced the ball off of Kobe's back, right in the numbers, back to himself then dribbled in unguarded for the easy score.
Some people might call that move risky or reckless. Some might call it juvenile. I call a move like that 'crafty' and Mr. Big Shot is a crafty veteran that understands the rules and the effectiveness of the move if a player takes his eye off the ball.
Mr. Bryant….you've been Punk'd….Mr. Big Shot style: