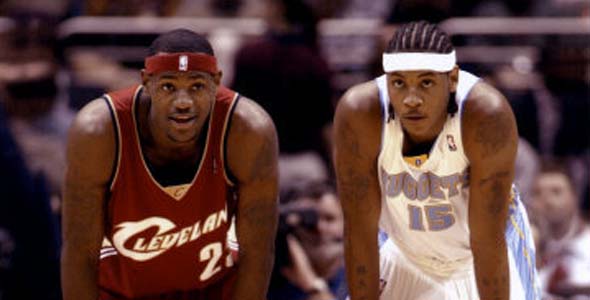 May 20, 2009 – Michael Pina
Michael Pina is a senior at the University of Delaware about to graduate with a BA in English concentrating in Journalism. Once he graduates in May, He'll be living in his hometown of Boston.
Everyone wants to see a Kobe vs. Lebron NBA Finals showdown. You've got your puppet commercials, your "23 vs. 24" Vitamin Water ads, and the simple fact that they both led their teams to the best records in their respective conferences. After witnessing the first two rounds of the 2009 playoffs, it can sincerely be said that that the two most impressive teams are not who we thought they were. The Cleveland Cavaliers have been historically dominant, first steamrolling the Detroit Pistons and then the Atlanta Hawks. Halfway through game two, both Cavalier victims looked like they were ready to hop on their private jets and soar to some Caribbean island, a peaceful place where they could clear their minds of the nightmare that is Lebron James. Meanwhile, in Denver, a well-balanced Nuggets squad has the look of an eminent force in this year's post-season. They beat the Hornets so bad that the first thing Chris Paul does each morning is crawl into his brand new top of the line hot-tub that he was forced to install in his bedroom. Dallas was then outlasted with even more physical play that now has basketball fans in southern California a little tense.
This brings us to the increasingly likely possibility of a Carmelo Anthony vs. Lebron James NBA finals match up. A rivalry that's now been six years in the making, going back to Oak Hill Academy and Saint Vincent-Saint Mary battling it out on national television, both of these all-stars received that extra push this season through newly acquired all-star point guard play. Mo Williams out in Cleveland and Chauncey Billups returning to his hometown of Denver. Both teams are filled with role players who excel at knowing what they're supposed to do and ultimately worrying about the W over everything else; both have the best small forwards in their conferences.
It might seem silly to create a rival for Lebron seeing how his game right now is near perfect and when it's all said and done he might retire as the best player who ever lived, but let's translate things to music for a second. Let's say King James is Jay-Z and Anthony is Nas. Jay's sold more records, is married to Beyonce and has literally created his own empire. Nas on the other hand, some might say is lyrically more talented and has created more substantive music. Jay-Z is an impenetrable force in the rap game, but most would agree Nas has won his battles here and there.
Carmelo hasn't come close to winning an MVP (yet) and his overall game isn't nearly on par with Lebron, who was just named both first team all-NBA and first team defense, but 'Melo is arguably the most natural scorer in the world. His ability to get to his spot and pull up for a consistent mid-range jump shot is rivaled only by Paul Pierce and Kobe Bryant, two players whose windows are quickly closing. Anthony might not be the miracle worker Lebron is. He doesn't quite have the ability to make players like Anderson Varejao look like justifiable NBA starters with his flick of the wrist, cross court, no look passes, but right now Denver is playing just as good basketball, if not better than Cleveland.
There are more holes in Lebron's offensive game than Carmelo, even though that's like saying the new Mercedes-Benz S-Class isn't as nice as the BMW 3-Series because it doesn't come in yellow. Does Lebron need a turnaround jump shot at this point in his career? Not when he can barrel to the basket any time he wants, but it's still a nice asset to have and one he will inevitably develop. Neither player can be guarded one on one by anybody in the league and both have realized that they need to make their teammates better if they want to win a championship in 2009. A rivalry that hopefully will exist for years to come, these two could put on a real show for basketball fans that haven't seen a genuine rivalry in over 20 years.
When it's all said and done this year, Lebron may well have pulled off one of the greatest single seasons since Jordan retired, or Carmelo, with the help of his steady point guard and physical front line, just might steal the show, creating a fresh rivalry that should last a little while. Either way, the NBA's future looks pretty good.