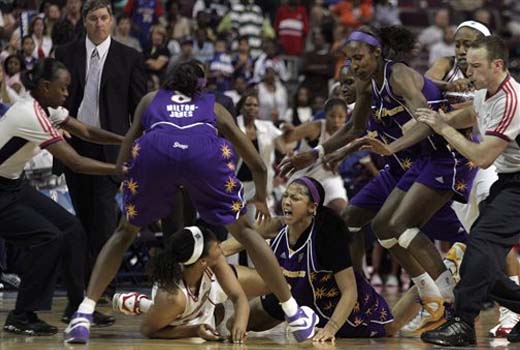 July 23rd, 2008 – Dr. Anklesnap

WNBA Catfight
Last night I was out for drinks with a couple friends and was simultaneously trying to monitor the WNBA melee that broke out in the final seconds of the match-up between the heated rivals Detroit Shock and LA Sparks. The last basketball brawl this exciting to watch was the NBA melee in Detroit between the Pistons and Pacers that started with a fan throwing a cup at Ron Artest.
This fight wasn't your average uneventful pushing match however. There were a couple of intriguing aspects to the brawl. For one, former NBA player and current Detroit Shock assistant coach Rick Mahorn was caught on camera shoving WNBA Superstar Lisa Leslie to the ground while she was seemingly uninvolved in the altercation. After Leslie got up with a look of shock, two of her teammates and a female assistant coach attacked Mahorn by hitting him in the back and pushing him.
Another side note to this circus that will be a huge concern to the Detroit Shock was that their star player Cheryl Ford (daughter of NBA legend Karl Malone) twisted her knee while trying to hold back one of her teammates from entering the fray. She eventually had to be wheeled off the court in a wheelchair as she was unable to walk on the injury. For the major highlights and live analysis of the situation see this video:
Will Robert Horry Retire?
It was announced yesterday that the San Antonio Spurs have re-signed Center-Power Forward Kurt Thomas to a two year deal for an undisclosed sum. Although legendary clutch shooter Robert Horry announced a couple weeks ago that he would like to play one more season in the NBA, and specifically cited his will to play for the Spurs, this recent signing by the Spurs will likely affect their will to re-sign Horry for another season.
Given his penchant for hitting big time clutch shots in the playoffs, especially late in games, it will be interesting to see if any other championship contenders for 2009 will extend Horry an offer for one last season. Certainly the Celtics lost a clutch shooter in James Posey to free agency. Could the C's be interested? You would have to imagine that Shaquille O'Neal would be lobbying for the Suns executives to give Horry a look as an insurance policy come playoff time next year.
If for some strange reason, no NBA contender is willing to take a risk on the aging sharpshooter, could Horry decide to hang em' up for good? Has the man nicknamed "Big Shot Bob" for his uncanny ability to hit big shots in big moments done enough in his career for consideration to the NBA Hall of Fame one day?
Time will tell…
Sacramento Kings Candid Photo
The Hoop Doctors receive many emails from our readers who love our Candid Photos section. We apologize for not updating the photo's database as often as we should with your submitted photos, we will be posting a large lot of new photos in the coming weeks so stay tuned. Anyhow, this photo we received from a reader was far too priceless not to share immediately. It was apparently a candid shot taken before an official photo of the 01-02 Sacramento Kings team. However, instead of an official photo the camera man got the entire Kings team flippin' him the bird! Check it out…