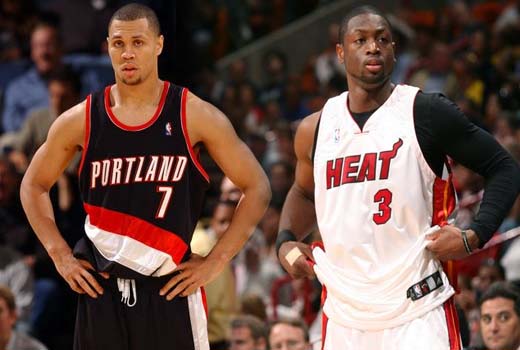 July 8th, 2008 – Dr. Anklesnap
Okay so the subject for this post may be a little confusing. We are still in the midst of free agent discussions with many of the big name free agents having yet to commit verbally to a contract offer with a team. However after the passage of the NBA draft and a few big trades in the books, I have been thinking that the 2008-09 season will prove to be a big turnaround year for a lot of teams. Outside the obvious numbers of biggest improvement in the wins column, I think next year it will be tough to decide who the most improved team will be as there should be quite a few bottom dwellers from 2008 emerge as playoff bound in 2009.
Top 5 non-playoff teams in 2008, who should be playoff contenders in 2009:
1. Portland Trailblazers
This team might be young, but they have arguably more talent and upside than any other team in the entire league. If Brandon Roy has another summer of improvement like he did last year forget about it, this team will be playoff bound on that fact alone. The world is watching how Greg Oden will figure into this team's mix. My guess is that Oden will rebound and block shots, while scoring few, but yet important points on put backs and easy oops from Roy. LaMarcus Aldridge and Channing Frye should remain legitimate low-post scoring threats. If Steve Blake, James Jones, and Martel Webster can continue knocking down the open looks from the perimeter this team has not only a chance to make the playoffs, but possibly do some damage.


2. Miami Heat
I am not normally one to jump the gun and make rash decisions, but Michael Beasley in his first Summer League game against pro-level players posted an impressive 28 points and 9 boards. Not too shabby huh? Don't forget that Shawn Marion decided against opting-out of the final year of his contract in favor of playing it out and testing free agency next summer as an unrestricted free agent. He will be playing like a mad man this year in order to impress GM's across the league with cap space. If the rumors are true that Dwayne Wade is getting healthy and is close to 100%, the Heat could be a dangerous team in the East next year. Not necessarily a threat to win it, but definitely playoff bound if they can get a point guard locked up before the start of season.
3. Chicago Bulls
The number one draft pick Derrick Rose should have a good year with the Bulls. But it's not solely the addition of Rose on the court that will ensure the Bulls once again make the playoffs, but possibly the impact of his addition to the team in general. Now the Bulls have some valuable trade assets to clear their logjam in their backcourt in Kirk Hinrich and Ben Gordon. Maybe the Bulls can bring in some veteran help to steady the ship. If Tyrus Thomas, Luol Deng, and Joakim Noah continue to improve as hoped the Bulls will be very dangerous. The big trade in the latter part of last season wasn't a huge help, but it certainly didn't hurt the team as the Bulls win percentage did improve ever so slightly after the move. You know; the trade that brought in Larry Hughes, Drew Gooden, and Cedric Simmons?
4. Milwaukee Bucks
I strongly believe that the Bucks next year could be the biggest one year turnaround story in the NBA. The big story is obviously the trade that brought in the high flying Richard Jefferson in exchange for Yi Lianlian. This was a genius move for the Bucks who already had Charlie Villanueva at that position playing extremely consistent basketball. Jefferson adds a huge scoring punch, but what most people don't give him credit for are his excellent defensive abilities. I think the Bucks drafted extremely well this year in grabbing Joe Alexander who is tough as nails and should have something to prove like he did in College. The Bucks other young talent is all developing very quickly in Andrew Bogut, Charlie Villanueva, Charlie Bell, and Mo Williams. Milwaukee has a great mix of young and old, with their leader and sharp-shooter Michael Redd, high flying Desmond Mason, and the previously mentioned Richard Jefferson who has been to the NBA Finals twice as a key piece of the New Jersey Nets club. One of the more underrated coaching moves this off-season was the Bucks hiring of Scott Skiles to mesh this diverse group of talent into a playoff contender.
5. LA Clippers
Baron Davis will be in L.A. folks. Get ready for some show-time in the Staples Center, but this time I'm not referring to the Lakers. If Elton Brand resigns as expected with the Clippers on July 9th, this team could be a force to be reckoned with. The Clippers will finally have the one-two punch they have been looking for in Brand and Davis. One of the larger pieces not being mentioned much in the discussions regarding the Clippers right now is Chris Kaman. His progress was a little slowed this season due to injuries and some bumps and bruises, but I expect after a solid off-season Kaman will likely improve on his already impressive numbers of 16 points and 13 boards per contest. Did any rookie come on as strong at the end of last season as Al Thornton? The guy seemingly blew up over night into the Clippers go to man on the offensive end. Thornton has huge upside potential and could prove to be one of the best draft choices in recent memory. Speaking of draft picks, the paperclips did an excellent job this year in grabbing Eric Gordon and DeAndre Jordan who both could be an added spark on both ends of the floor. This team could be extremely deep, if you are a Clipper hater don't sleep on the fact that they may get very solid production out of any one of Tim Thomas, Brevin Knight, Cuttino Mobley, or possibly even the return of Shaun Livingston if he gets a contract.
Who are your Top 5 teams to make a big turnaround?