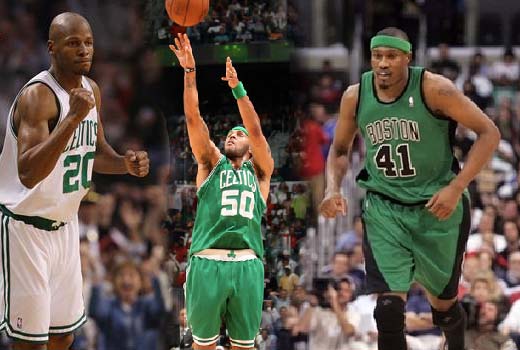 June 12th, 2008 – Dr. Anklesnap
If someone told me this morning that the Los Angeles Lakers would be up by as many as 24 on the Boston Celtics in the first half of Game 4, I would laugh and say "quit playin"! If they then added to that statement that Kobe Bryant at half time would not have a field goal in that same game I would say "have you gone loco?" Yet somehow that was the case tonight in Los Angeles. Talk about coming out hot on your home floor!
Now since this series is quickly proving that truly "anything can happen", what if someone (who I already called a jokester and then "loco") told me that the Celtics would come storming back from down 18 at half time to be within 2 points at the end of the third quarter? At that point I would have to assume they were a pathological liar!
Watching this series I'm starting to feel sorry for Ray Allen. He snapped out of his funk late in the Eastern Conference Finals series against the Detroit Pistons, yet ever since everyone is talking about either Paul Pierce or Kevin Garnett. Am I the only one noticing how well that Allen is playing in this series? As far as I'm concerned Ray Allen has been the offensive and defensive leader of the Celtics throughout the series. That's not to mention the fact that he's drawn the near impossible assignment of having to guard Kobe Bryant for the majority of his minutes thus far. How is Ray Allen not on the NBA first team all defense every year? The guy can flat out defend!
Dr. Anklesnap's Game 4 Points of Interest:
Lakers jumped out to one of the quickest and largest leads in NBA History, led by as many as 24 points in the first half, led by 18 at half time.
Starting in the 3rd quarter, we all witnessed probably the greatest single game collapse in NBA Finals history. Some might like to think of it as the greatest comeback in history, which it may be, but I will stick to the pessimistic approach.
Ray Allen played some of the tightest defense of his career on Kobe Bryant for the entire first half of Game 4. Unfortunately for the Celtics, all of the Lakers role players stepped up, and the Lakers were running all over the Green Machine.
Then in a rather odd/genius turn of events, after halftime Ray Allen shifted over to guard Derek Fisher and/or Sasha Vujacic, while Paul Pierce picked up the defensive assignment of Kobe Bryant. Although Kobe Bryant picked up his scoring with a weaker defender on him, the rest of the Lakers looked like they were completely lost on offense. The Celtics machine cranked up the "D."
Doc Rivers sat Rajon Rondo who was largely ineffective in the first half and went with a combination of Eddie House and James Posey to spread the floor. This was a game changing move for the Celtics coaching staff. With a line-up of Ray Allen, Posey, and House the Celtics hit outside shots consistently and mixed in possessions in the post to Kevin Garnett or slashes by Paul Pierce. This may be the Celtics most effective lineup against a team like Los Angeles. Why? Because the Lakers staff are numbers guys. They understand that Rondo may be a decent shooter in spurts, but he is clearly the guy they want shooting so they have been leaving him virtually unguarded, so they can clog the paint. With Rondo off Garnett's efficiency and play goes up drastically, because with the floor spread with shooter's he has room to maneuver.
Lamar Odom and Pau Gasol should be commended for their great games scoring, rebounding and defending. Unfortunately for the Lakers however, they both disappeared in the final 2 minutes of play, and both missed multiple open dunks in the fourth quarter.
At the end of the day the Celtics defense was just too good, and their offensive adjustment by Doc Rivers was why he gets paid the big bucks. Genius.

It feels like I missed something…..hmmm?? Oh yeah, Sasha Vujacic cried. You're probably picturing him crying after the game with a towel over his head, right? Wrong! The man (I use that term loosely here) was shown in the national broadcast crying in the fourth quarter timeout shortly after the Celtics took their first lead. I know I harped on Bryant for poor body language down the stretch of games and its negative effects on his teammates, but c'mon Sasha….crying "during" the game….really? Passion and competitiveness is one thing, being a wuss is another. Maybe he was posturing for a role in a movie? A sad one…

Celtics 97 – Lakers 91

Game 5 is Sunday, June 15th @ 9 p.m. EST in Los Angeles