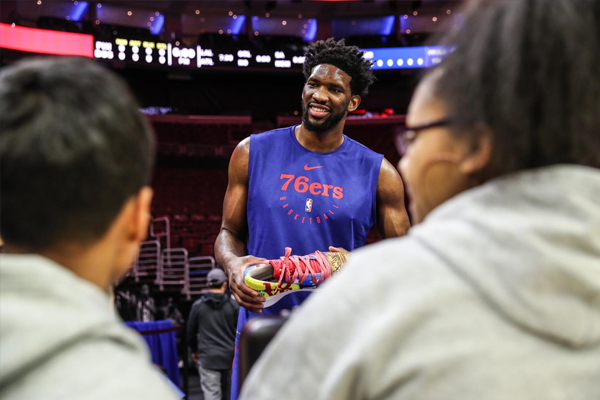 Joel Embiid has quickly become a face of the Sixers and beloved figure within Philadelphia. His playful demeanor and world-class basketball ability has brought the Sixers to national prominence, but it is his commitment to the underserved youth of Philadelphia that has endeared him the most to the community.
Recognizing his connection to the kids and how they inspire him every night on the court, Joel's custom UA Anatomix Spawn All-Star Game player exclusive (PE) isn't just for the kids – it was made by them.
Legendary footwear customizers @dezcustomz and @kreativecustomkicks went to the Boys and Girls Club of Philadelphia to learn directly from the kids what Joel means to the city, why he has inspired them and why they are thankful for his continued support. Those words and their designs went directly onto the shoes that he wore for the NBA All-Star Game.
The right shoe features the Boys & Girls Club motto "Great Futures Start Here" as well as their core values and a bronze graphic that ties back to the Boys & Girls Club of Philadelphia ceiling – a nod to The Process of growth that happens at the Boys & Girls Club and finding beauty within the struggle. There are Philadelphia landmarks and descriptors such as the City of Brotherly Love, the U.S. Constitution, LOVE Park, and more and the initials of each child who participated in the ideation process are included on the heels of the shoes.