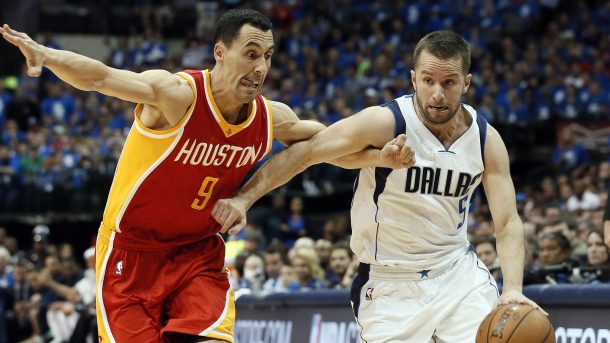 Hurricane Maria caused mass destruction and damage and was catastrophic for Puerto Rico when it made landfall on September 20.
The island is still recovering in the aftermath of the storm and one NBA player and native Puerto Rican has done whatever he can to help his people recover from the catastrophe: J.J Barea.
Barea was just honored with the 2017-18 J. Walter Kennedy Citizenship Award for his work.
Here is the NBA press release on the award:
"Dallas Mavericks guard J.J. Barea has won the 2017-18 J. Walter Kennedy Citizenship Award, as administered and selected by the Professional Basketball Writers Association (PBWA). The honor, named after the NBA's second commissioner, is presented annually by the PBWA to a player, coach or athletic trainer who shows outstanding service and dedication to the community.

Barea was one of five finalists for the award, along with Oklahoma City Thunder forward Carmelo Anthony, Golden State Warriors forward Kevin Durant, Houston Rockets guard James Harden and Miami Heat guard Dwyane Wade. The finalists were chosen by a committee of 25 PBWA members from a list of 25 nominees submitted by NBA teams. The winner was determined by a vote of the entire PBWA, which is composed of more than 200 writers and editors who cover the NBA on a regular basis for newspapers, magazines and websites.

A 12-year NBA veteran, Barea is being honored for his swift and sustained response to disaster relief efforts in Puerto Rico during the aftermath of Hurricane Maria. Born and raised in Mayaguez, Puerto Rico, Barea married his wife, Viviana Ortiz, on the island in August 2016. His parents and other family members live in Puerto Rico and were among those affected by the September storm.

"J.J. Barea's impassioned and tireless efforts to help the people of Puerto Rico are inspiring and should spur us all to contribute in our own communities," said PBWA President Josh Robbins of the Orlando Sentinel. "PBWA members salute J.J., his fellow finalists and fellow nominees for their outstanding and heartfelt work."

In the days immediately after Hurricane Maria, Barea coordinated five trips to the island and worked with partners in North Texas to deliver generators, food, water, clothing, medical supplies and other necessities. He borrowed the Mavericks' team plane from owner Mark Cuban to facilitate delivery.

In addition to providing more than 100,000 pounds of supplies, Barea helped organize financial support for families affected by the hurricane. He has personally raised nearly $500,000 and launched a fundraiser on YouCaring.com that has generated nearly $270,000. Barea also worked with the Mavericks to donate 100 percent of all single-game ticket sales from their Oct. 25 game against the Memphis Grizzlies, raising an additional $114,000 for Puerto Rico's recovery.

In January, the J.J. Barea Foundation – which offers economic assistance to nonprofit entities in Puerto Rico – partnered with ofo, the world's leading station-free bike-sharing company, to donate 600 bikes to help with transportation on the island. After being shipped to Puerto Rico and assembled by the foundation with guidance and training from ofo, the bikes were distributed among the Boys & Girls Clubs of Puerto Rico and communities along the Martín Peña Channel."
Pretty awesome stuff by Barea to help his people, and pretty cool of Mark Cuban to allow Barea to use the team private jet to make these trips and transport the supplies.
Here is to hoping that Puerto Rico is able to continue to move past the devastation and loss of Hurricane Maria and these are the kind of community stories by NBA players that typically go unnoticed in the midst of all of the rumors and conjecture and daily grind that is the association.