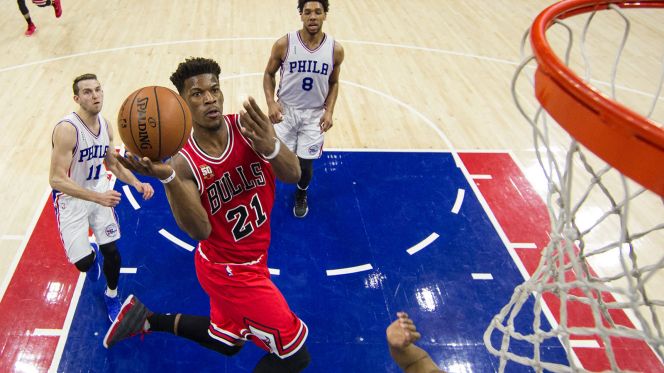 Jimmy Butler has been playing out of his mind as of late and keeps showing how high his ceiling actually is, as he is a bonafide NBA superstar these days.
Butler scored 53 points in the Bulls 115-11 comeback victory over the 76ers Thursday night.
Butler shot 15 of the 30 from the field, including 2 for 4 from downtown while making 21 of 25 free throws in the game to go along with 10 rebounds, six assists and three steals.
This makes Butler only the fourth player in Bulls history to score 50 points in a game. And only the third person since 1985 to pull off a similar overall stat line.
Jimmy has 53, 10 and 6. Players who have done that since 1985 are named Michael Jordan and Kobe Bryant. https://t.co/k4oVffsOxc

— Kelly Scaletta (@KellyScaletta) January 15, 2016
And here are the other three with 50+ (one of them may literally be the most obvious ever):
1. Michael Jordan (38x that's why he's the greatest)
2. Jamal Crawford (2004 season)
3. Chet Walker (1972 season)
Butler was actually supposed to sit out the game to rest his sore ankle but refused to take the night off according to Head Coach Fred Hoiberg.
Butler had added motivation to not sit out the game.
"I got a bet with my trainer that I'm going to play 82 games," Butler said. "When I'm nicked up, Travelle Gaines said we got to get you to play 82. So I got to continue to take care of my body, hydrate, keep icing my knees and all that stuff."
Here are the highlights of his performance against the Sixers:
Please enable Javascript to watch this video