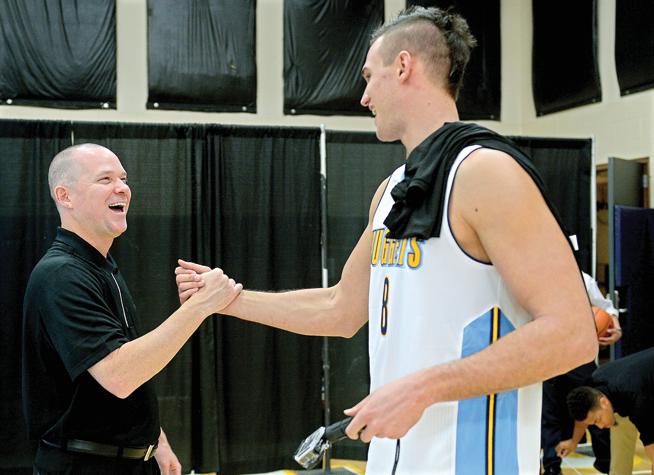 The Denver Nuggets haven't sent anyone to the NBA's All-Star game since Carmelo Anthony was traded to the New York Knicks midway through the 2010-11 season.
Current head coach Mike Malone thinks that should change this year, or next year, or sometime in the near future
Danilo Gallinari has entered man-alive mode during the month of January, and Malone, per Christopher Dempsey of the Denver Post, thinks he should be properly recognized for his performance:
For the month he's averaging 26.2 points, 6.2 rebounds, 44.8 percent shooting, 37 percent from the 3-point line, and he's getting to the line an astonishing 12.3 times per game, making 82 percent of those tries. In all, he's strung together a career-high six games of 20 points or more.

And when Gallinari scores 20 or more points, it's a good barometer to tell whether the Nuggets will win. Denver is 11-5 when that happens.

"That's what the best players in this league do," Gallinari said, when asked about the 20-point barrier. "They bring it every night, so I've got to do it every night."

. . .

"He comes out and gets 28, five boards, 19 free throw attempts, making 17 — and the loose ball, some of the things that don't show up on the stat sheet," Nuggets coach Michael Malone said. "And he's been doing that every game now. He is to me, if we keep on winning and he keeps on playing at that level, he's a guy that you should talk about making an all-star team. If he can continue to play at such a high level. He puts the time in, and the biggest thing is he'll get there if we continue to win."
Malone isn't exclusively talking about Gallinari being thrown into this year's All-Star festivities. He's just saying Gallinari could enter that conversation at some point.
Backing him this year would be a stretch. Even in the near future, it'll be difficult. DeMarcus Cousins, Anthony Davis, Kevin Durant (assuming he stays in the West), Draymond Green, Blake Griffin and Kawhi Leonard make for tough frontcourt competition, so Gallo, as Dempsey notes, will truly need to play out of his mind.
Still, the absence of an All-Star appearance, both now and down the line, doesn't take away from what Gallo is doing. His shot selection can still be bizarre, but he's one of the league's premier offensive talents, as someone who can function both on or off the ball.
Only four other players are currently matching Gallinari's per-36-minute benchmarks of 19.5 points, six rebounds and 2.5 assists while also shooting at least 37 percent from long distance, according to Basketball-Reference: Chris Bosh, Kevin Durant, Paul George and Kawhi Leonard. So even when Gallo doesn't make the All-Star team this year, he's still pinned himself to All-Star company.
And that in itself is tough to do.