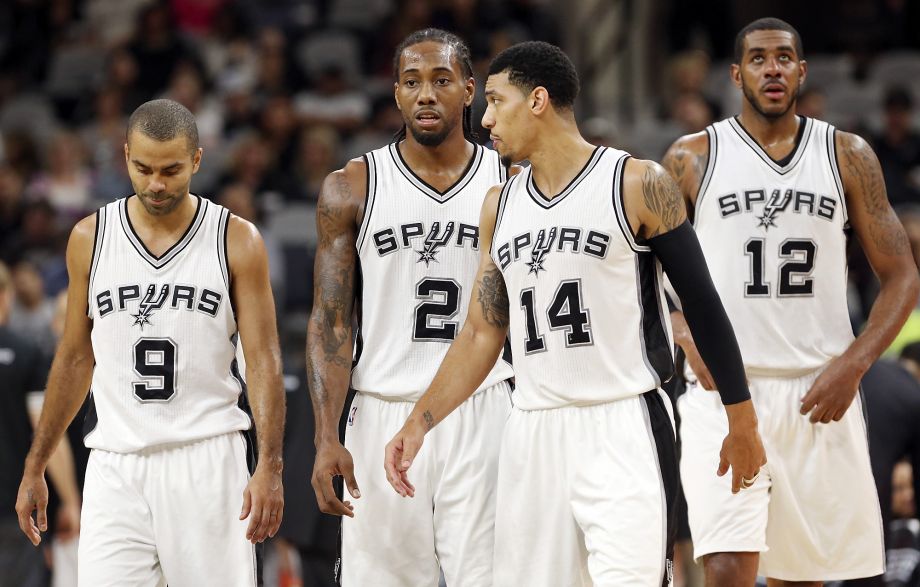 By now you know the San Antonio Spurs are kind of good at this whole basketball thing.
Though the Golden State Warriors' pursuit of the 1995-96 Chicago Bulls' record 72 victories has justifiably earned much of the spotlight, the Spurs themselves are on pace to win 70 games, mostly because they're the freaking Spurs, but also because they have two megastars, LaMarcus Aldridge and Kawhi Leonard, still in the front end of their primes. That's made life easier on everyone, most notably San Antonio's original Big Three of Tim Duncan, Manu Ginobili and Tony Parker. More than that, Aldridge and Leonard, among others, have made Parker want to keep playing long after Duncan and Ginobili, and maybe even head coach Gregg Popovich, call it quits.
From Sam Amick of USA Today Sports:
Stop us if you've heard this before, but the experience of joyful success is so darned addictive that it has sparked chatter about this story lasting longer than anyone expected.

"It definitely helps that Kawhi and LaMarcus are here and playing great," Parker, 33, told USA TODAY Sports. "That will help me to play longer, that's for sure. If Kawhi and LaMarcus were not there, then maybe when Timmy and Manu was gone, maybe I'd play one or two (more years after that point) and retire.

"But now that they're there, it makes me want to be there for the young guys. The way Timmy and Manu help all the young guys, I want to do the same thing too, you know? It's such a great family and a great atmosphere, that it makes you want to stay."
Perfectly reasonable. And expected.
Parker is "only" 33 years old. Duncan is going to take the court at 40 after his birthday this April. If he returns next season, he will play the game of basketball at 41 years old. Parker could follow a similar arc. The Spurs have long been monitoring his minutes, and that should keep him as fresh as possible, for as long as possible—especially as San Antonio relies more on Patty Mills and, potentially, lands other playmakers in free agency.
All of which is to say Parker, whose current contract runs through 2017-18, likely has at least a half-decade's worth of basketball left in him.
Which, in turn, is to say the Spurs are still unfair.