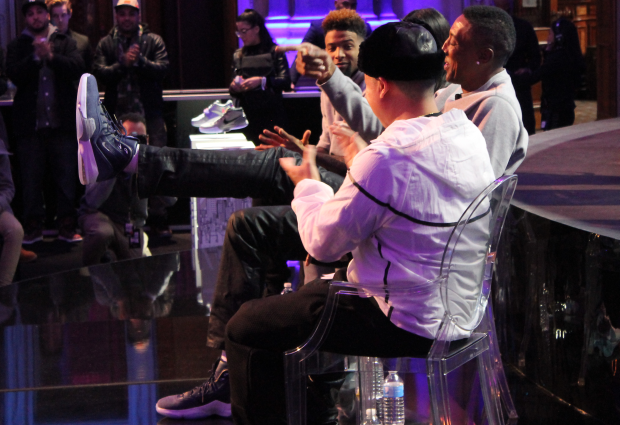 Nike had NYC on lock during the 2015 NBA All-Star Weekend with multiple installations in different boroughs. We gave an exclusive look into the Nike SNKRS space, and now we are unveiling the latest sneaker in the Scottie Pippen signature line as seen on the man himself.
With the Williamsburgh bank into the Nike Zoom City Bank during All-Star Weekend, when Scottie Pippen spoke (alongside Nike designer Leo Chang & Odell Beckham Jr of NY Giants one-handed catch fame) to the crowd while wearing a denim colorway of the upcoming Nike Air Pippen 6.
This upcoming silhouette continues the move spearheaded by Penny Hardaway by reviving the Nike signature collection of a basketball athlete after they retired. Pippen also wear the Air Pippen 6 (although a different colorway) as he participated in the NBA Shooting Stars Challenge.
No official word about when the Nike Air Pippen 6 will release in stores; my guess would be around summertime.