January 6, 2011 – Allen Moll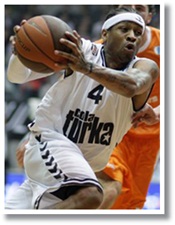 Many fans and haters alike have been very critical of Allen Iverson's choice(or forced decision) to play professional basketball in Europe this season. Everything looked just peachy as fans showed up in drones to greet A.I. upon his initial arrival in Turkey and when he scored 15 points in his debut in early November.
Then once we all tuned in to see Iverson playing in limited minutes when his games were broadcast on NBA TV, many immediately started to question just how long A.I. would remain overseas in his new role as a bench-warmer. After all, he did force his way out of Detroit and Memphis over issues with coaches over his playing time.
Then after reports of Allen's aging knees flaring up again forcing him to miss a number of his club's games prior to the holidays and being forced to sit idle and watch as his teammate Mire Chatman dropped 43 points in a near record Eurocup performance, the always competitive future Hall of Famer's competitive juices had to be flowing as Christmas approached.
In his first game back from injury on December 27th, A.I. showed a glimpse of what made him a worldwide sensation as he dropped a then season high 20 points which included a nifty behind-the-back-pass to teammate AJ Ogilvy, helping Beskitas knock off Pinar Karsiyaka.
Then on December 30th, Turkish fans got to see some vintage Iverson as he set a new season high with 26 points in addition to 5 assists, and 3 steals albeit in a surprising 94-72 loss to 11th place Tofas.
Hopefully Allen continues his impressive play so he doesn't continually get put in the same conversation as Steve Francis and Stephon Marbury as players that self-destructed their respected careers.
On the season Beskitas is 7-4, putting them in 6th place in the Turkish Basketball League with Iverson averaging 14.4 ppg, 4.2 assists, 2.2 rebounds, 2 steals, while shooting 42% from the field and 50% from behind the arc.
Check out highlights of Iverson's season high 26 points vs Tofas:
Allen Moll has been a lifelong NBA and NCAA College Basketball fan who watches and studies games religiously, and coaches youth basketball in his native Lehigh Valley region of Pennsylvania.  Allen also provides content to Bleacherreport.com, Upperdeckblog.com, in addition to being a tenured NBA and NCAA columnist for TheHoopDoctors.com.