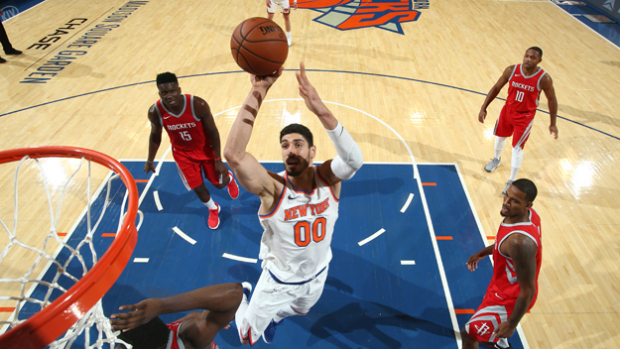 Usually when there is an international player who makes it to the NBA from a country not known to have many NBA players, that player is universally revered in his home country and treat as somehwat of a conquering hero.
That is not the case currently with New York Knicks power forward Enes Kanter, one of three active NBA players from Turkey.
Kanter has made his feelings about the political situation in his home country and the brewing dictatorship known on numerous occasions and has drew the ire of Turkish president Tayyip Erdogan.
Because of this and Kanter's vocal support for exiled politician and enemy of the current Turkish president, Fethullah Gulen (Erdogan accuses Gulen of attempting a political coupe in 2016), Kanter has dealt with many issues with his home country including having his passport revoked over the summer and now Kanter says that Knicks games are not shown in Turkey because of his opposition to their current president.
Here is what he told Ian Begley of ESPN:
"Enes Kanter says that there are no Knicks games shown on Turkish television, which he says is in response to his vocal public stance in opposition to Turkish President Recep Tayyip. "Last year they were showing all 29 games in Turkey but no (Oklahoma City Thunder) games because of all the politics, they were going crazy. So now, they are showing every other game (but) no Knicks," Kanter said Friday. "Just because the president is crazy. It's that crazy…. Last year, I saw all those people on social media they were saying we want to watch (Russell Westbrook) because they can't watch because of me. Now, they want to watch Kristaps (Porzingis), all the other guys, they cannot watch just because of me."
That is pretty petty if you ask me and sounds like the sort of action a dictator would take to anyone who opposes them (sounds like another leader I know…), but it seems as though things won't change in the near future as Kanter says he will continue to speak out against Erdogan's regime.
Here's to hoping for some peace and liberty for the Turkish people and for the love of basketball, can we allow them to watch Kristaps Porzingis and all of his Unicorn glory?