November 9, 2010 – THD Rumor Patrol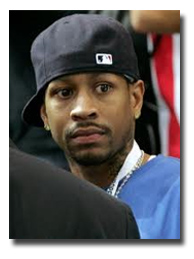 Am I the only one that can't wait to see what Iverson has in store for Turkish basketball fans? Iverson has been a warrior his entire career. The type of player that has no quit in him, plays through injuries, tough as nails. It should be no surprise to anyone that Iverson didn't just hang 'em up and retire when no NBA team signed him as a free agent this summer. Instead he's on a mission to prove himself overseas and get back to the league next season….
Former NBA star Allen Iverson arrived in Istanbul on Monday to begin a stint with Turkish club Besiktas, promising to give fans "something they haven't seen before."
Dozens of fans greeted the 11-time All-Star at Ataturk Airport. Sporting a Besiktas jersey and a Philadelphia Phillies hat, Iverson waved at fans from inside his car before being driven to his hotel.
Iverson, who agreed to a $4 million, two-year contract with Besiktas, is the Turkish league's biggest signing. He has called his move to the Istanbul club "a chance to get back on track with my basketball career" after no NBA team was willing to offer him a contract this season.
Many see his stint in Turkey as a test of his ability to revive his NBA career because teams are likely to monitor Iverson's performance and behavior at Besiktas. The guard has said he still believes he can play in the NBA and hopes his performance in Europe will lead to another chance next season.
His career has been troubled by numerous run-ins with coaches and team officials. He's also had several legal problems that landed him on probation.
Iverson is expected to make his debut with Besiktas on Nov. 13 when the team plays Oyak Renault at its home arena that seats about 4,500 fans. The club hasn't won the Turkish league since 1975.
"They were great," Iverson told NTV sports channel of the cheering Besiktas fans who welcomed him at the airport, adding that "the most important thing is to be accepted, to be wanted and to be appreciated."
Iverson urged fans to come out and support the team. The player also said he would be "interacting" with the fans as much as possible.
"Before I leave, I'll be speaking a lot of Turkish," he said.
Read more details via AP on NBA.com
**Bonus** – Here is some video footage of Iverson's arrival: