November 9, 2010 – Allen Moll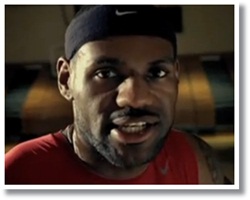 While some fans feel that Lebron should be applauded , not hated for blindsiding his former Cleveland fans on live national television in the ill-fated "Decision" to play for Miami this season, the majority opinion still chooses to criticize the 2 time league MVP in the manor of which the news was given.
Similar to a bad break-up in someone's personal life, Cleveland fans are still bitter. I don't blame them since, Lebron is an Ohio native and even though he grew up 45 minutes away in Akron, was expected to take his hometown team to the promised land of winning an NBA Championship. For better or worse, most young kids dream of becoming a star athlete and leading the team that they grew up rooting for to the pinnacle of sports.
Apparently that's not the case for James as he arrogantly asks us in his annoying new commercial, "Should I not listen to my friends? But they're my friends." And while we're on the subject of his commercial, who is he to poke fun at Charles Barkley with his chomping on a donut and copying Chuck's old "I am not a role model" line from a Nike ad years ago.
I digress. I don't even live in Cleveland and some of the things bother me in the video. Lebron had his time to voice his opinion and now it's Clevelanders chance at a rebuttal. Let em have it Cavalier fans.
Check out Cleveland Fans Spoof Lebron's "What Should I Do?":
And as a special bonus we have a quick video short for you from a Hoop Docs reader Steve Kasan from Toronto, Canada. He and some friends noticed LeBron talking about 'Dreams' during 'LeDecision' on ESPN, so they decided they'd poke a little fun at James expense by comparing his situation with the blockbuster hit movie Inception:
Allen Moll has been a lifelong NBA and NCAA College Basketball fan who watches and studies games religiously, and coaches youth basketball in his native Lehigh Valley region of Pennsylvania.  Allen also provides content to Bleacherreport.com, Upperdeckblog.com, in addition to being a tenured NBA and NCAA columnist for TheHoopDoctors.com.