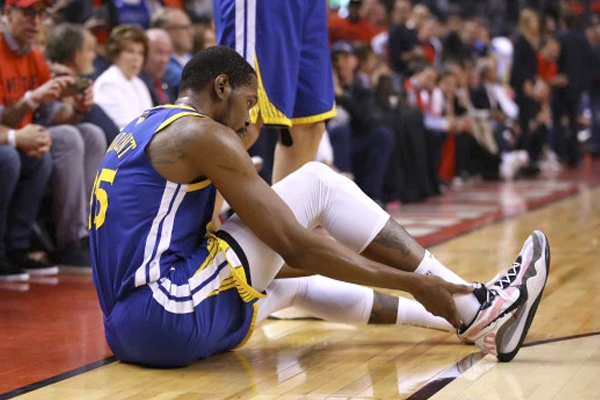 Facing the basket and seeing an opening, Kevin Durant made a quick move to his left and then crumpled to the hardwood, clutching the Achilles tendon in his right leg.
Large sections of Raptors fans started cheering as Golden State Warriors forward Kevin Durant was helped to the locker room. Players from both the Warriors and Toronto Raptors could be seen signaling for fans to stop applauding the injury. That was eventually the case, with the cheers getting drowned out by chants of "KD."
But for the Warriors, the damage was done. Here is what they had to say about the fans reaction:
"That's crazy. That's crazy," Golden State's Draymond Green said of the crowd's initial response. "Come on … that's classless. For me, I've always witnessed Canadians being the nicest people that I've ever encountered.

"That was classless."
DeMarcus Cousins shared Green's feelings on the crowd's response to their teammate going down.
"Trash. So trashy," said Cousins, who suffered a torn Achilles of his own last season. "We only idolize superstar athletes, not human beings. It's always about what we can do between those lines.

"That's it. That's all that ever matters."
"It was bullshit. That was freaking ridiculous. I can't even put into words how mad I was about that," Klay Thompson said.
Curry was surprised by the fan response.
"Very confused around that reaction. It's not my experience with the people of this city," said Curry, who lived in Toronto when his father played for the Raptors from 1999 to 2002. "You understand this is about an individual, a human being and not, 'Oh, shoot he's out, he's hurt, we won the championship.' That was probably their initial thought and you hate to see that when a guy's going through pain like that.

"I just hope that ugliness doesn't show itself again as we go forward in this series."
As for Kyle Lowry, he tried to give the crowd the benefit of the doubt.
"I don't think the fans knew the significance of the injury," he said. "They kind of (had) just seen he went down. In this league, we're all brothers. At the end of the day, we're all brothers and it's a small brotherhood and you never want to see a competitor like him go down."
Drake, who's known to trash talk put a consoling hand on Durant as he headed for the locker room. He later took to instagram to share his thoughts on Durant's injury.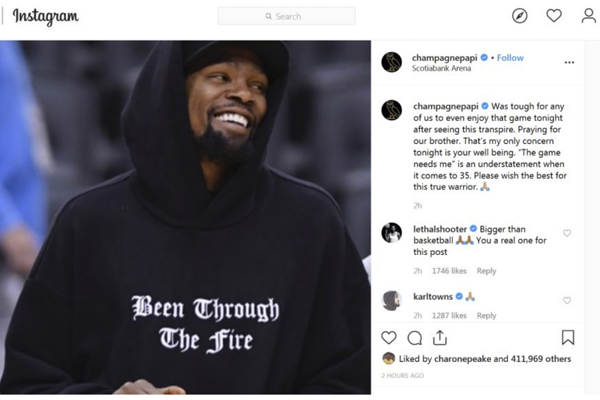 Durant will undergo an MRI on Tuesday. This was his first taste of action since Game 5 against the Houston Rockets in the second round.