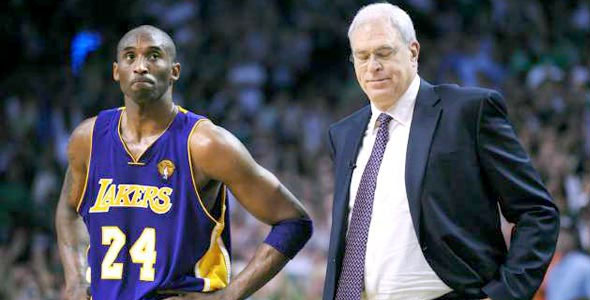 January 6, 2011 – Kevin Burke
Until LeBron made his decision to head to South Florida, Kobe Bryant was clearly the most hated guy in the league. Now, he's runner up.  He's behind LeBron, but is still plenty hated. Both hated and disrespected, actually. By now, you've heard the comments that Lakers coach, Phil Jackson made about Kobe after a recent loss. Upon losing to Memphis the other night, Jackson had this to say about some of the decisions Kobe made in that game:
"We get behind early on in the third quarter on some stupid plays — poor passing, poor transition defense — and then Kobe has to screw up the game and start energizing the team by going one-on-one and that takes the rest of the guys out as a consequence."
The next day, Jackson made a feeble attempt at clarifying that statement by offering this porous follow-up:
"When a game starts getting out of hand — and rightly so — Kobe will crank it up, not screw it up," Jackson said. "I used that term 'screw it up' but not in terms of it being an error or a mistake, but 'crank it up.' He'll go to another notch to try to get us back in the ballgame. That's something we do in the fourth quarter, that's our fourth quarter action, that's how we win ballgames. To have to crank it up and do that in the third quarter, we didn't have much left in the gas tank after that."
Come on, Phil. Knock it off. That second quote doesn't even make sense.
That isn't the first time that Phil has called out the guy largely responsible for his last five diamond encrusted championship rings. And if history is any indicator, it certainly won't be the last.
Phil pulls no punches. For the most part he says what's on his mind regardless of what anybody thinks. When calling out individual players, he sometimes seems more critical on Kobe than he does the rest of the team. Perhaps that's because he's the leader and should be held to a higher standard.
But, I'm trying to think back. I don't really remember Jackson calling out Michael Jordan to the same degree, or with the same frequency as he does Kobe. Why is that? This isn't a Kobe/Jordan comparison article, but it's inarguable that the two are linked as there's an endless debate about which player is/was better. For my money I'll take MJ, but obviously Kobe is no slouch either. They are the two best Shooting Guards in the 64-year history of this storied league and Jackson was fortunate enough to have coached both of them.
Maybe it's because Phil has gotten more comfortable as the rings have continued to mount. Maybe it's because when the Bulls were hanging banners  at the old Chicago Stadium before doing so at the United Center, the internet and media coverage weren't quite what we've come to know and love today so it wasn't as publicized. Or maybe he did occasionally call out MJ to a degree and I'm just not remembering it.
Regardless of what it is, I think it's very evident that Phil calls out Kobe way more than he ever did Mike. In this most recent case, he was upset that Kobe got too trigger happy. So did Mike on occasion. So, why does Phil call out Kobe more than he did when he coached Mike?
If you're looking for your everyday, predictable basketball talk, then go somewhere else, because Kevin Burke of The Kevin Burke Project brings provocative, thought provoking content about basketball as only he can. Kevin also hosts The Hoop Doctors weekly podcast show, which you can subscribe to for free on iTunes. Follow Kevin on Twitter and Facebook