December 29, 2010 – Kevin Burke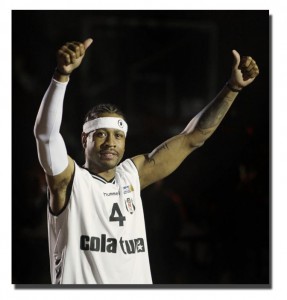 I've harped on it time and time again. Today's game has become very perimeter oriented. Gone are the days where the Center ran the show. To take it a step further, it appears that Point Guards are running the league. From Chris Paul to Deron Williams to Derrick Rose to Rajon Rondo to Russell Westbrook to Tyreke Evans to Brandon Jennings to Raymond Felton, these young point men are all extremely valuable contributors to their teams. But this isn't exactly an anomaly, because there used to be a crop of young athletic guards about a decade ago. Perhaps you've heard of them: Stephon Marbury, Allen Iverson and Steve Francis.
Marbury, Iverson and Francis used to run the league from the perimeter. They were tabbed as the 3 best PGs (until people realized that Iverson was better as a Shooting Guard) for a handful of years and were featured together on many posters and NBA propaganda. All 3 were more than capable of scoring however many points they wanted on any given night. They were also fully equipped to embarrass whoever was unfortunate enough to guard them one on one at the top of the key. But as they say, nothing is forever. If you don't believe me look no further than these 3. It has amazingly gotten to the point where these former All-Stars were not able to find employment in the Association. All 3 were playing ball overseas this season. That is until Steve Francis just recently left the Chinese Basketball Association's Beijing Ducks by way of a mutual decision between him and the team. Francis reportedly signed with the Ducks for $800,000 this season.
But who could forget Francis in his prime? The high flying guard from the University of Maryland was the feature of countless highlights, primarily because of what he was able to do above the rim. Most noted for his days in Houston, Francis last saw significant game action with the Knicks during the 2006 – 2007 season before eventually being waived by Memphis in 2009. For his career, Francis averaged 18.1ppg and 6apg with his best year being 21 and 7.
Then there's Stephon Marbury. The last we saw of Marbury he was inexplicably banished from the New York Knicks by Mike D'Antoni before finding his way in Boston. He was actually playing at a high level for the Celtics the last time we saw him in the league. I was surprised that he couldn't find work because I don't think he was done. I mean, he was only 31 at that point. He's also in the Chinese Basketball Association and recently signed to play three more years out there.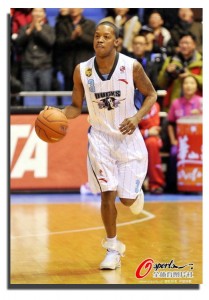 Marbury was an outstanding player in his prime. He was powerful and unguardable. He was somewhat of a journeyman once he forced his way out of Minnesota but his talent was undeniable. During his best years, he was a top 3 PG in the leauge but never really got that sort of recognition because he was widely regarded as a malcontent. For his career, Steph was a 19.3ppg and 7.6apg guy and posted countless 20 and 8 seasons. His best season came when he was in New Jersey where he pretty much had a 24 and 8 campaign.
And do I really need to insult you by reminding you how great Iverson was? No, but I will anyways. He was a born scorer but was forced to play the point early on simply because of his diminutive stature. Before long in Philly, he was moved to the 2 so that he could be let loose. The former league MVP, scoring champ, multiple All-Star, All-Star Game MVP, greatest NBA trendsetter (I'll stop there) has career averages of 26.7ppg and 6.2apg.
His impact on the league goes much further than what he did on the court. He could quite possibly be the most influential guy to ever play in the league because of how he forever changed the look and style of play. I would've much rather he retire than agree to play in Turkey because it diminishes his legacy to a degree. Also, it's nothing short of a travesty that not a single team wanted him on their roster. This is Allen Iverson. Slower? Yes. Just as explosive and dynamic? No. But this is Allen Iverson.
Between Francis, Marbury and Iverson, A.I. is the only one headed to the Hall so perhaps the obvious answer (no pun intended) to the original question is that he is the worst fall from grace. However, if nothing else, the fact that all 3 of these guys were told that they were no longer wanted and forced to find love overseas is a sad case.
If you're looking for your everyday, predictable basketball talk, then go somewhere else, because Kevin Burke of The Kevin Burke Project brings provocative, thought provoking content about basketball as only he can. Kevin also hosts The Hoop Doctors weekly podcast show, which you can subscribe to for free on iTunes. Follow Kevin on Twitter and Facebook