December 6, 2010 – THD Rumor Patrol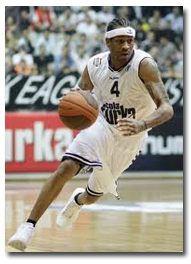 Considering how unhappy we know Allen Iverson was in the NBA over the last few years when he didn't start or didn't get sufficient touches or plays called for him, we can only assume he has been unhappy playing overseas in Turkey where he has yet to have that big scoring outburst or even become the focus of the team offense. Well apparently not, as Iverson on twitter has been telling fans just how great it is there and how much he's enjoying Turkey off the court and on it….
Former NBA star Allen Iverson says he's happy with his new career in Turkey.
Iverson has addressed rumors he wants out, telling his followers on Twitter that "I am very happy here in Istanbul. My family and I are making this our home."
The 11-time NBA All-Star says fans and teammates at Besiktas are "great" and he's building "good chemistry" with both.
Iverson added: "For those of you who really care about me just know this, I am very pleased and enjoying this ride."
Iverson, the NBA's Most Valuable Player in 2001, agreed to a $4 million, two-year deal with Besiktas after no NBA team offered him a contract.
Iverson's start in Turkey has been mixed. He's averaging 9.6 points and 3.6 assists after five games.
Read more details via AP on NBA.com