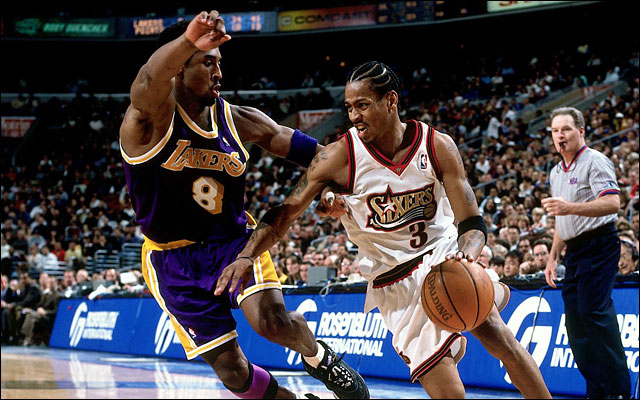 Kobe Bryant has been lauded as one of the most competitive and hard-working superstars in NBA history, the kind of guy who was consumed by greatness and lived and breathed the game.
Bryant was on Jim Rome's podcast on Monday and he gave a glimpse into one of the situations that motivated Bryant to outwork his opponents, being dominated by Allen Iverson in a game in 1999.
Here is what he told Rome:
"That put him on my permanent radar. Now he's my obsession. I'm going to figure him out. This is never happening again. I kept the stat sheet. It just sat with me. From that point forward I read everything about him. I watched every game he played…Sometimes you have those moments where great players bring the best out of you. And he certainly did that for me because he helped me find another gear of preparation."
You know professional athletes are always competing and measuring themselves against their peers, but this is another level. It is also a bit ironic, because it seems as though Iverson was one of the most supremely gifted NBA players ever and likely didn't have near the work ethic on a daily basis that Kobe may have possessed.
Bryant also shared what it feels like to win an Oscar as compared to an NBA championship…
"Winning a championship, I expected to do that. Going into Indiana, Shaq being hurt, me trying to have to finish this game here at 21-years-old, I dreamt of doing that. I felt comfortable, I felt confident that I could absolutely execute that. And writing "Dear Basketball" and producing that film, I didn't know if I could do it. I'm not known to be a writer, let alone be a producer on a project with Glen Keane and John Williams. I was unsure of myself, man. And when you take a leap of faith to that extent to be rewarded at the highest level of the industry for our first project out, it's beyond comprehension."
It is always fun when an elite athlete opens up about moments that help them progress in their careers.