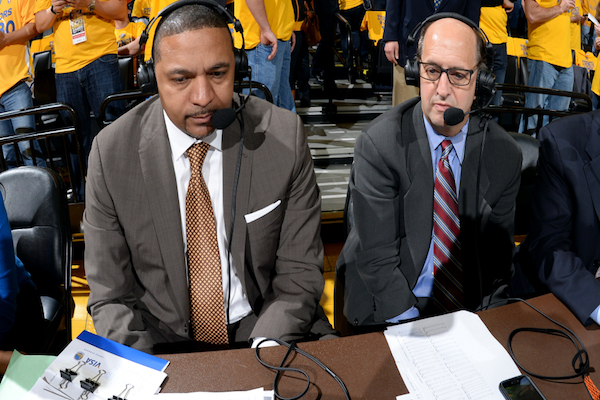 It doesn't sound like Jeff Van Gundy will be competing with ESPN colleague Mark Jackson in the New York Knicks' head-coaching sweepstakes.
Though Van Gundy's name is one among many that has been floated around as a potential replacement for the fired Jeff Hornacek, ESPN.com's Ian Begley reports the franchise doesn't have any interest in bringing back its former head coach…for now:
The New York Knicks have not shown any interest at this point in Jeff Van Gundy as a candidate for their head-coaching position, league sources told ESPN.

Van Gundy, a former Knicks coach and current NBA analyst for ESPN, would be open to talking about the position if he were approached by New York, league sources say. But league sources familiar with the matter say that despite contact between the team and Van Gundy's representatives, there is no interest currently.
Van Gundy's name seems to pop up in every high-profile(ish) coaching vacancy. He's definitely been mentioned in almost every search the Knicks have staged since his initial departure. That it's absent from this one, for now, may or may not mean something.
Truthfully, it's difficult to make anything of the Knicks' present search. In addition to Jackson, David Blatt, David Fizdale and Jerry Stackhouse, among a few others, have been mentioned as potential candidates. That's a fairly inconsistent prospect pool, with varying degrees of experience.
Either Fizdale or Stackhouse seem to make the most sense, as semi-new faces who can develop along with the team. Blatt has fewer than two years of head coaching experience at the NBA level, but he's a borderline idol overseas. Jackson feels like he would be a disaster; he didn't leave the Golden State Warriors under the best circumstances, and there's something to be said about his failure to cobble together a premier offense with both Stephen Curry and Klay Thompson on the roster.