November 2, 2010 – Kevin Burke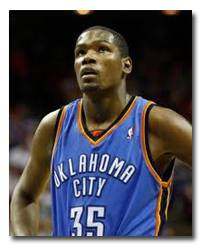 If there's one guy in the league who is the next best thing and primed to take over the Association, it's Kevin Durant. At just 21 years old, he was the youngest scoring champ in league history a year ago, dropping more than 30 points a night. He accomplished that in impressive fashion by scoring at least 25 points in 29 consecutive games en route to doing so. For an encore, he led Team U.S.A. to a gold medal a few months ago in the World Championships in Turkey where the entire world had the opportunity to see what a beast he is. Couple his multi-faceted game with the fact that he's extremely marketable and he becomes a can't miss – regardless of what ever it is you're talking about.
It's natural for a guy like Durant to have fans, but it appears that he may have a stalker by the name of Mathias Murphy. Some people call Twitter organized stalking and this kid is the reason why. In the series of videos below, Mathias tapes Kevin Durant, apparently without KDs knowledge or consent (in most of the videos), and posts them to his Twitter account and YouTube. It chronicles Durant moving next door to this Thunder fan and this little kid wants the world to know who his new neighbor is. But is it legit or is it an innovative marketing campaign? While I'm sure Durant has obsessed fans, this kid comes across as somewhat of a polished actor which makes it a tough call. You be the judge:
Mathias outside of Durant's soon-to-be house
Move in day for Durant
Durant ordering pizza
Durant shooting around in his driveway
Durant taking out the garbage
Durant eating breakfast
Apparently, Durant learns of this kid stalking him and invites him to his house (Notice he has on a Nike T-shirt. I'm just saying)
To me, the whole thing has a LeBron/Kobe Nike puppet commercial feel about it. That's why I'm leaning towards it being part of some sort of marketing campaign. So what do you think? Is it legit?
If you're looking for your everyday, predictable basketball talk, then go somewhere else, because Kevin Burke of The Kevin Burke Project brings provocative, thought provoking content about basketball as only he can. Kevin also hosts The Hoop Doctors weekly podcast show, which you can subscribe to for free on iTunes. Follow Kevin on Twitter and Facebook