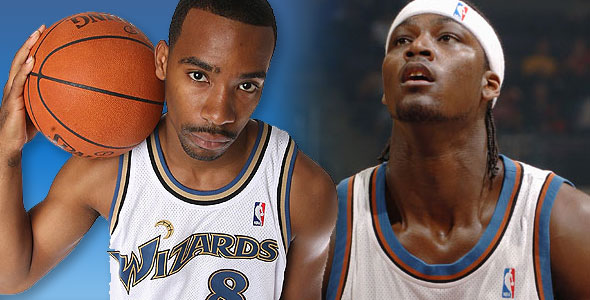 September 23, 2010 – Kevin Burke
Apparently, Michael Jordan and the Charlotte Bobcats have a plan in place. Unfortunately for me, I'm not sure what that plan is. The Bobcats just invited Javaris Crittenton to training camp. This acquisition puts the Bobcats' roster at 17. This comes on the heels of them signing Kwame Brown just a few weeks ago. I'm not quite sure what's going on down there in North Carolina.
When we first learned that the Bobcats were about to sign Kwame Brown, it initially came as a shock to me because when he was still in Washington and in the front office for the Wizards, Jordan orchestrated the drafting of Kwame Brown with the #1 overall pick. We all know how that ended. Brown was bounced around the league and became a journeyman after no time, so you would've thought that Mike wouldn't want to do anything to remind people of that. It's not even the fact that he eventually went from team to team, it's that from day one, we never really saw what Mike saw that would entice him take Brown with the first selection. He clearly saw something that the rest of us didn't.
Then before you knew it, both Kwame and Mike were out of Washington. There have been countless busts in NBA history, so Kwame isn't special in that regard. But what makes him stick out like a sore thumb is that he was hand-picked by MJ. That alone slides him up a few spots on the bust-o-meter.
So first it was Kwame Brown, now Mike and the Bobcats bring Crittenton to the team. Listen, I'm all for giving guys second chances. We all know that Javaris was involved in the gun incident with then teammate, Gilbert Arenas, and both were essentially banished last season. Crittenton was a free agent after last season, so for the entire summer, the 22-year old didn't have a team and didn't know if he would be signed.
I am not surprised that Crittenton was signed by an NBA team because being a former 19th overall pick, he does have some game. But fresh off of the Kwame signing, I can't believe the Bobcats took Javaris in. If nothing else, it's a bad PR move when you couple that with the Kwame signing. I realize that it is a non-guaranteed contract, but still.  These are two moves that are very easy to criticize and to question why they were made.
With the departure of Raymond Felton to the Knicks, in the backcourt and tasked primarily with handling the ball, the Bobcats now have Crittenton, D.J. Augustin, Shaun Livingston, and undrafted Rookie, Sherron Collins. Experience isn't exactly something that they all have in common. For that fact alone, and Crittenton's off the court problems aside, they really needed some veteran leadership in the backcourt. That also makes the move questionable.
If you're looking for your everyday, predictable basketball talk, then go somewhere else, because Kevin Burke of The Kevin Burke Project brings provocative, thought provoking content about basketball as only he can. Kevin also hosts The Hoop Doctors weekly podcast show, which you can subscribe to for free on iTunes. Follow Kevin on Twitter and Facebook