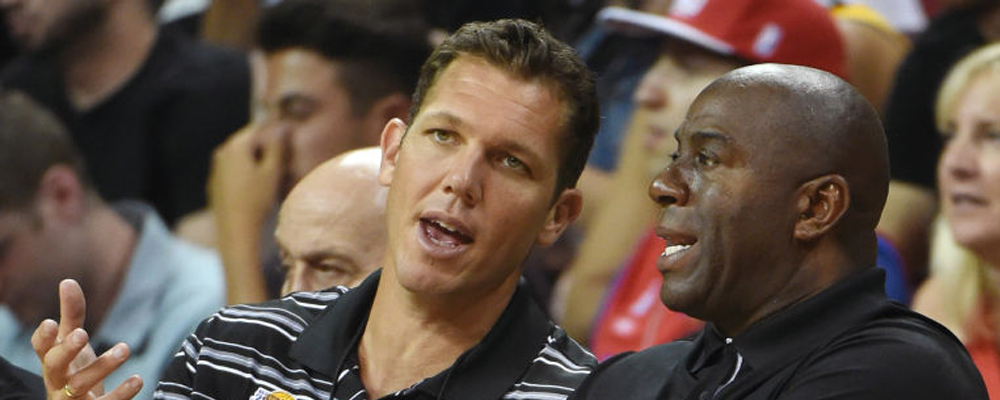 LeBron James wants Luke Walton replaced, so the Lakers should fire him and get on with it. After poaching Walton from the defending champion Golden State Warriors, the Lakers are free to do whatever they want, including what Lakers President Magic Johnson and star player LeBron James want, which seems to be moving from Luke Walton.
All's fair in love and basketball, but it just doesn't seem fair. Walton led a supremely talented Warriors team to a 39-4 record before Steve Kerr took back over full-time. Since joining the Lakers Walton's record is 86-127, but he hasn't had much of a team.
When the Lakers fired Mike D'Antoni after one season it was deserved, because he didn't preach defense and he over-played an aging Kobe Bryant at the end of his career.
When the Lakers fired Mike Brown, currently and assistant for Kerr in Golden State, that was undeserved, because they were 42-29, .592. Actually, as much as I didn't think he was the right fit at the time, he did just fine.
When the Lakers fired former Lakers star Byron Scott after accumulating 126 losses in 164 that was also undeserved. Scott had nothing to work with. He took the losses. Taking that job essentially ended his coaching career, and he hasn't coached in the NBA since. And that is just wrong. Scott was a solid coach. He coached the Nets to back-to-back Finals appearances, when they were led by Jason Kidd, Richard Jefferson, and Kenyon Martin.
The Lakers kept hiring and firing coaches under the last Buss administration and were still paying former coaches Byron Scott and Mike Brown way past their tenure with the team.
Two years ago, the Lakers hired Walton to a 5-year deal, four of those years being guaranteed, at a base of $5 million per season.
Unless the Lakers are going to get Marc Jackson, Mike Budenholzer, or Tom Thibodeau, there is no point in moving on from Luke Walton, who has done all he could do with what he's been giving. Firing him now reminds me so much of what they did to Byron Scott. They gave him nothing to work with and yet expected the team not to be terrible.
Now these Lakers finally have a star in LeBron James, but he's got almost no support on the court, and he's injured. Of course, the Lakers are piling up losses. How can that be a surprise to anyone? Luke Walton may have to fall on the sword, but that doesn't make it right.