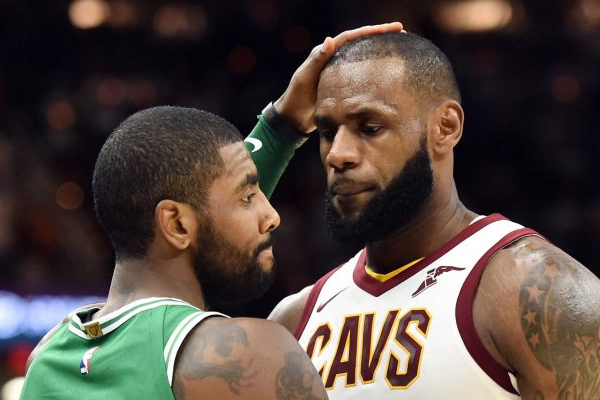 It's been more than a year since Kyrie Irving decided to move on from LeBron James and the Cleveland Cavaliers, but now that the Celtics are struggling, Kyrie is finally beginning to empathize with his former teammate.
According to ESPN, Kyrie called LeBron James after last Saturday's loss to the Orlando Magic and apologized for once being a young player who didn't fully properly comprehend the role of a veteran leader. I bet you didn't see that coming. I'd even make a prop bet on TopBet Sportsbook about the likelihood of an apology from Kyrie any day.
Kyrie Irving says he called LeBron James after the Celtics' loss to the Magic to apologize for "being that young player that wanted everything at his fingertips." Naturally, there were a lot of follow-up q's and he told us all to relax. pic.twitter.com/d4zeRKUbA5

— Nicole Yang (@nicolecyang) January 17, 2019
"I had to call 'Bron, and tell him I apologize for being that young player that wanted everything at his fingertips," Irving said after the Celtics beat the Toronto Raptors 118-107 on Wednesday night. "I wanted to be the guy that led us to a championship. I wanted to be the leader. I wanted to be all that."
Irving admitted he "should have kept it in house" when criticizing his younger teammates after the loss to the Magic.
"I did a poor job of setting an example for these young guys what it's like to get something out of your teammates," he said. "Going forward, I want to test these young guys, but I can't do it publicly. That was a learning experience for me, realizing the magnitude of my voice and what I mean to these guys."
He even went on to say that Jaylen Brown was right when he said that you shouldn't be pointing fingers at teammates.
It seems that Irving is finally gaining perspective on what LeBron had to go through as a leader. As Irving gets older and gains more experience as the Celtics' leader, he will become better at leading his younger teammates.
Luckily, the Celtics just pulled off a resounding win over the best team in the Eastern Conference, leading them with 27 points in a 117-108 win over the Toronto Raptors. Maybe, now that all the dirty laundry has been aired out, the Celtics can move forward as a united team.