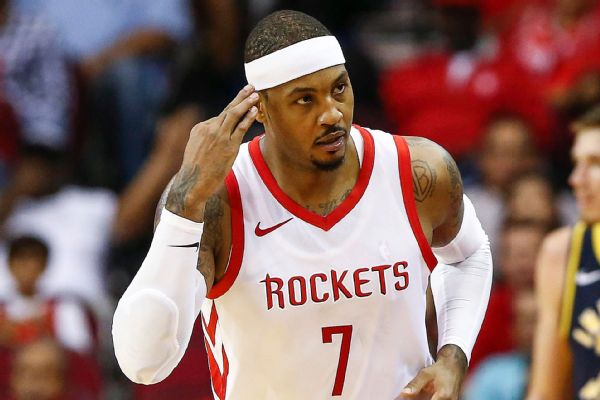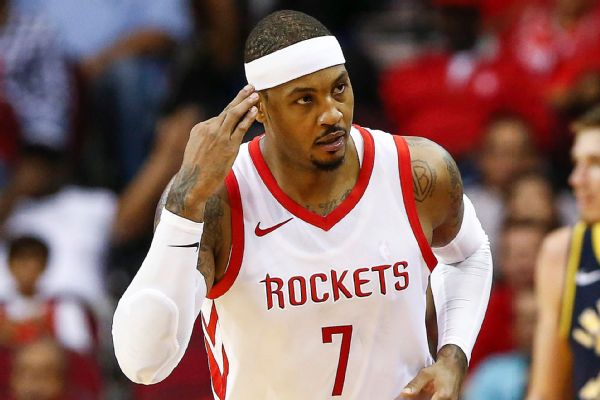 Carmelo Anthony has, it seems, played his last game as a member of the Houston Rockets.
Over the weekend, in advance of him missing Saturday's game against the San Antonio Spurs due to 'illness,' ESPN.com's Adrian Wojnarowski dropped the following bomb:
While Carmelo Anthony is absent with an illness tonight against the Spurs, the Rockets and Anthony are discussing his role and how they might still be able to proceed together for the rest of the season, league sources tell ESPN. Talks are fluid.

— Adrian Wojnarowski (@wojespn) November 11, 2018
Marc Stein of The New York Times then added this:
The Rockets have denied they are waiving Carmelo Anthony, but two sources close to the situation say Anthony has been informed that his brief time with the team will soon be ending. Anthony has been listed as "out" for Houston's game tonight against Indiana due to illness

— Marc Stein (@TheSteinLine) November 11, 2018
General manager Daryl Morey also officially denied the rumors:
Morey just met with reporters in Houston and insisted Carmelo Anthony is still a member of the Rockets https://t.co/Lsx8qFPGFZ

— Marc Stein (@TheSteinLine) November 11, 2018
Perhaps things change, but as of now, it does seem like Melo is done in Houston. Even some of his teammates think so, according to ESPN.com's Tim MacMahon:
Several players and members of the Rockets' coaching staff believe that Carmelo Anthony has played his final game for the franchise, sources told ESPN on Sunday.

The organization has trod delicately on finalizing an exit for Anthony out of respect for his relationships within the team and his stature as a 10-time All-Star and future Hall of Famer.

Anthony, 34, has been away from the team for two games with what has been described as an "illness," and he didn't join the Rockets on their trip to Denver, sources said.
Anthony and Houston were always a combustible pairing. It was either going to work or not work. There would be no in-between. Thus far, there has not been. Anthony isn't solely responsible for the Rockets' weakened position in the Western Conference, but he's shooting a terrible percentage on his wide-open threes, according to NBA.com. Houston as a team isn't finding nylon on enough of its highest-quality looks, but it's tough to justify playing Anthony amid that brick-laying when the defense is also in shambles.
A divorce now feels imminent—a matter of when, not if. From there, it's tough to tell what happens with Melo. He has not thrived while attempting to transition into more complementary roles with the Rockets and Oklahoma City Thunder. Another team will be open to rolling the dice because he's Carmelo Anthony, but which one? Would the Los Angeles Lakers create a roster spot for him? Could the Miami Heat give him a try after losing the Jimmy Butler sweepstakes? Are the Golden State Warriors dominant enough to try unleashing him off the bench?
No matter where Melo lands next, the trajectory of his twilight will remain fascinating.