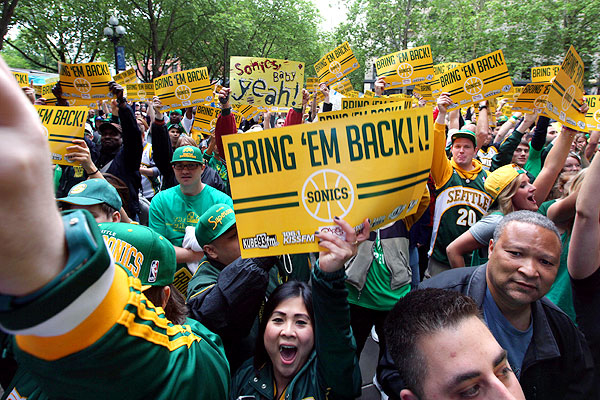 Tonight the Golden State Warriors will face off against the Sacramento Kings in a preseason game, the first NBA game in Seattle since 2008. Unfortunately for Seattle though, it may be years before another game takes place in their city.
Seattle groups interested in bringing a team to the city have met with NBA officials and were told that an expansion may not happen until 2025 at the earliest. This just days after the NHL took a step closer to placing a franchise in Seattle.
If not an expansion, how else can Seattle secure a team? With a relocation.According to ESPN some lawyers believe there's a lease window for the Memphis Grizzlies to leave Tennessee in 2021, but owner Robert Pera has promised to keep the team in Memphis.
Even Kevin Durant believes Seattle home deserves a club of its own.
"For sure," Durant said. "Most definitely. It's a basketball city. It's a sports town. … They have a good representation of basketball in the NBA from Seattle-born players, Washington state-born players. And I feel like that whole brand deserves an NBA team. Just like the Golden State Warriors deserve a team or the Los Angeles Lakers deserve a team, Seattle is that same way. (A team) has that same type of impact in the community."
Oklahoma City native Clay Bennett purchased the Supersonics in 2006 and chose to relocate to his hometown after he was denied the funds to erect a new arena in Seattle. Seattle has been trying for many years to