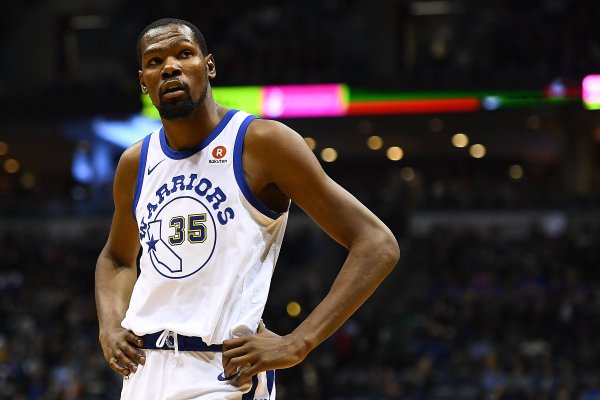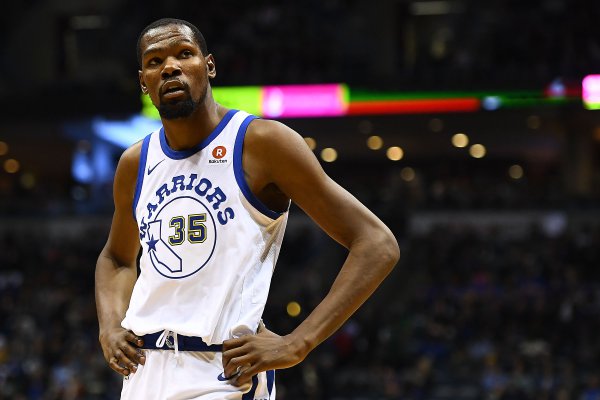 Here we are, fewer than 10 games into the NBA's regular season, and all almost everybody wants to talk about is 2019 free agency. It's kind of annoying. At the same time, it makes total sense. Next summer's free-agent class is awash with stars, many of whom are considered flight risks. From Jimmy Butler and Kawhi Leonard, to Kevin Durant and Klay Thompson, many insiders and executives sense a great potential for turnover.
Durant, of course, is the top prize of the bunch. Many thus far have him ticketed for the New York Knicks. This no doubt makes Knicks fans feel equal parts excited and uncomfortable. It'd be great to land Durant, but their team isn't known for getting what it wants or properly handling free agency.
Even the most confident Knicks supporters, though, would be reticent to call KD's arrival a done deal. And so, a select few have taken matters into their own hands ahead of lasts Friday's tilt between New York and Golden State:
A billboard recruiting Kevin Durant to the Knicks just went up outside Madison Square Garden ? (? via Dennis Roitman) https://t.co/CM0EFNQPZZ pic.twitter.com/ofEexWkqFv

— SLAM (@SLAMonline) October 25, 2018
Wow. Just look at that grade-school drawing of Durant and Kristaps Porzingis. Surely KD is impressed, right?
Wrong.
From The Athletic's Anthony Slater:
Kevin Durant on the billboard that's up in Manhattan imploring him to come to the Knicks: "I don't really know how to feel about that type of stuff. It's cool. No disrespect, but I'm not really impressed with that type of stuff."
Can you really blame him? For starters, the billboard is neither aesthetically pleasing nor particular catchy. The included slogan almost sounds like it's antagonizing Durant.
Mostly, though, Durant is hardened to this process. He went through the recruiting dance in 2016. He's not going to get caught up in it again. Not in the same way. He'll take his meetings when the time comes, but don't expect him to tip his hand or bask in the attention. He knows that doing so won't end well for him.
And as a bonus amateur tip, if you want Durant to break character, be sure to come up with something a bit more creative and memorable than this billboard.