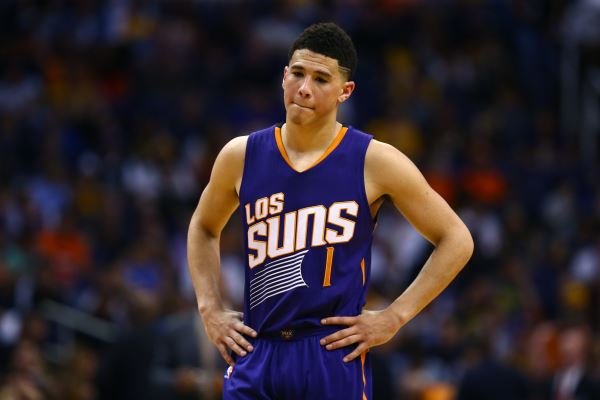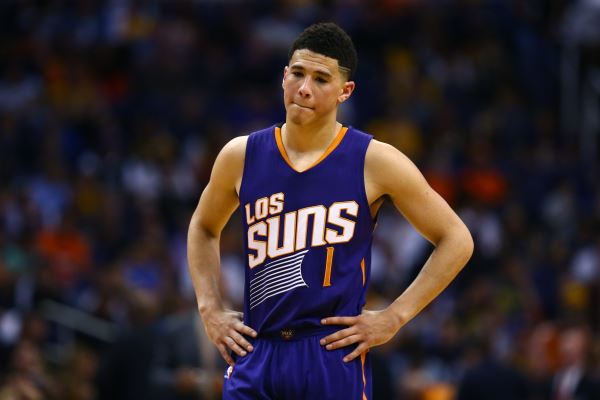 Devin Booker knows he'll be making max money when his extension kicks in for the 2019-20 season. And now, with that out of the way, he believes it's winning time for the Phoenix Suns.
Making an appearance on CBS Sports' Reiter's Block with Bill Reiter, the 21-year-old microwave scorer not-so-subtly intimated that it's time for the young Suns to make some serious collective leaps (h/t CBS Sports' Kyle Boone and SLAM Online's Marcel Mutoni):
"It's winning time," said Booker, who joined "Reiter's Block" on CBS Sports HQ. "With that contract, and even before the contract, I felt that pressure to succeed for the city and the franchise. They took a chance on me to be that [max] guy, I know it comes with a lot of leadership and responsibility, but I think I'm built for it. I'm looking forward to next year a lot, with the additions to the team, we're in much better shape to have a much better season."
The Suns no doubt share Booker's sentiments. They drafted the "safer" prospect at No. 1, in Deandre Ayton, and then proceeded to flip Zhaire Smith and the Miami Heat's 2021 first-round pick to the Philadelphia 76ers for the more NBA-ready rookie in Mikal Bridges. Tack on the one-year, $15 million contract they gave to veteran Trevor Ariza, and the Suns are clearly trying to accelerate their rebuilding process without compromising their long-term flexibility.
All of which is fine. Both the Suns and Booker should be feeling pressure. Any time you dole out max money to a player coming off his rookie-scale deal, the implication is that you've reached a certain point in your development. The Suns can get away with another throwaway season before Booker's extension kicks in, but that's it.
Dwelling in the bottom of the Western Conference is a no-go when they'll have one player soaking up about 25 percent of their cap. This year will go a long way toward determining whether they're on the right track. The Suns still have question marks in Josh Jackson, Dragan Bender, Marquese and even TJ Warren, and that's in addition to their inbound rookies, who also include Elie Okobo. They need a handful of their youngsters to really shine this season, because after that, their grace period's officially over.