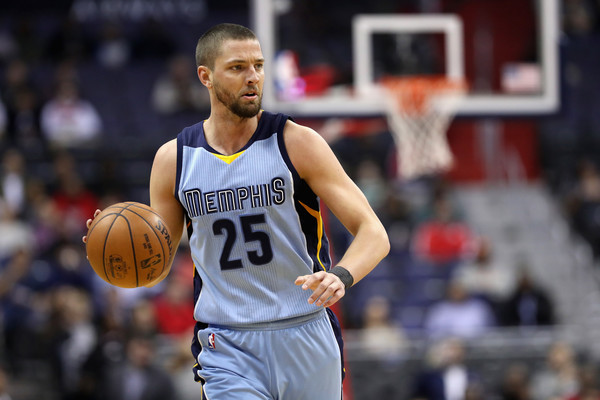 Things are heating up as the NBA speeds toward Thursday night's draft—particularly in Memphis, where the Grizzlies are hocking the No. 4 pick to roughly one-quarter of the league.
According to ESPN.com's Jonathan Givony, the Chicago Bulls, Boston Celtics, Dallas Mavericks, Denver Nuggets, Los Angeles Clippers, New York Knicks and Orlando Magic are all trying to trade for the fourth overall selection:
The Grizzlies have several potential trade partners, as the Dallas Mavericks, Orlando Magic, Chicago Bulls, New York Knicks, Denver Nuggets, Boston Celtics and LA Clippers have shown varying degrees of interest in a deal, a source told ESPN.

According to sources, the Grizzlies don't anticipate the most serious proposals to arrive until they are on the clock Thursday, shortly before 8 p.m. ET. While contingent deals can be made earlier, the Grizzlies and other teams might want to see which prospects are available at No. 4 before deciding on a deal.

In such a trade, the Grizzlies hope to move back a few spots rather than move out of the lottery altogether, sources told ESPN. The organization wants to add talent even as it potentially trades its biggest free-agent acquisition ever to get out from under the $49.2 million remaining on Parsons' contract over the next two seasons.
This is one of those evergreen draft-day rumors, because there's no way this situation gets resolved anytime before the Grizzlies are on the clock. Waiting until the absolute last minute not only drives up potential offers, but it gives Memphis a better idea of who's left on the board.
If, for instance, the Grizzlies are up and Luka Doncic has fallen to No. 4—unlikely at this point—they can then decide whether to take him or roll the dice on a trade. So, yeah, waiting is smart.
Actually trading this pick is a different story. Parsons is owed more than $49 million over the next two seasons, which hampers the Grizzlies' ability to flesh out their roster. Still, you don't use a top-five choice to dump salary. You just don't. And the Grizzlies in particular shouldn't be talking themselves into it just because they have Marc Gasol and Mike Conley. Even at full strength, there's no guarantee they're a playoff team in the Western Conference.
A lot can happen between now and when Adam Silver announces that the Grizzlies are on the clock, but standing pat remains Memphis' most logical move.