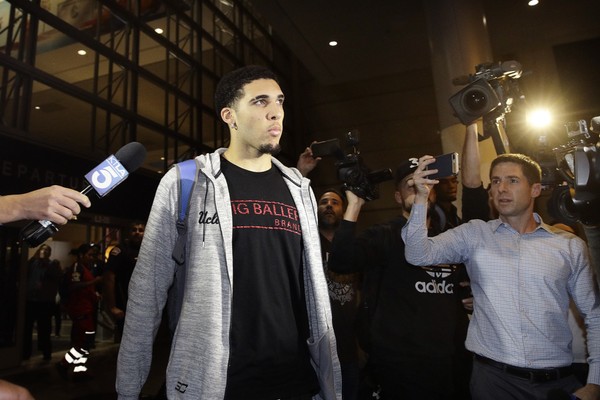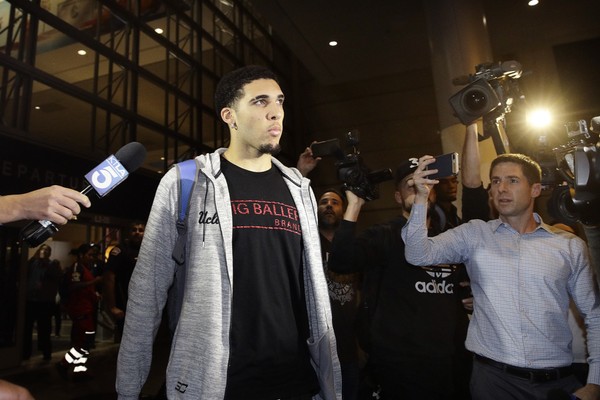 LaVar Ball's will be done?
LiAngelo Ball, the brother of Los Angeles Lakers point guard Lonzo Ball, has declared himself eligible for the 2018 NBA draft. Though many haven't expected him to even be selected, that has yet to stop him from making a round of interviews.
Next up, though? Private workouts with the Lakers, Los Angeles Clippers and Golden State Warriors, per HoopsHype's Alex Kennedy:
.@LiAngeloBall says he interviewed with the Thunder and Suns yesterday at the @ProBBallCombine. After this event ends, he has private workouts scheduled with the Lakers, Clippers and Warriors.

— Alex Kennedy (@AlexKennedyNBA) May 23, 2018
Obviously this means LaVar Ball is right: Lonzo is already a member of the Lakers. LiAngelo is next. LaMelo will come after him. The Ball family will run the Lakers forever and ever and ever.
Is this a large enough overreaction for ya?
Bill Oram of the SoCal News Group dropped some important rationale while people were busy getting jokes off:
Everyone I've spoken to has indicated the Lakers will give LiAngelo a workout. Concerned about further fulfilling the Prophecy of LaVar? Drafting him would be another matter entirely. https://t.co/wqbji5aT7X

— Bill Oram (@billoram) May 23, 2018
See? Nothing to worry about. LaVar doesn't have absolute control over the Lakers. And he probably won't. LaMelo feels more likely to be an NBA prospect than LiAngelo anyway. This just seems to be a matter of teams doing their due diligence and turning over every rock.
Now, in the event the Lakers actually select LiAngelo—they own pick Nos. 25 and 47—you have full permission to worry. That would be a harbinger of offhanded favoritism at best, and a sign that LaVar is fated to eventually replace Magic Johnson as team president at worst.