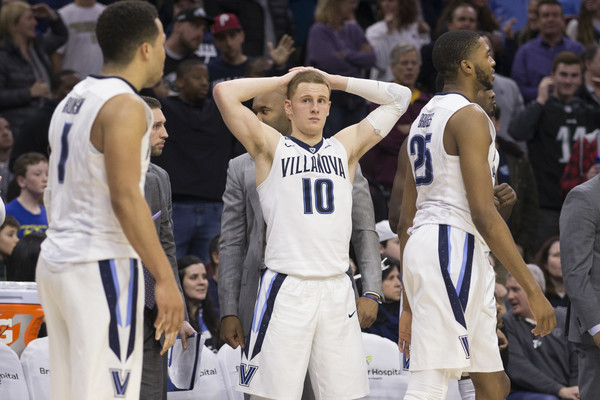 Pore over the overwhelming number of NBA mock drafts on the internet, and you won't find Donte DiVincenzo's name woven into the presumptive ranks.
After Villanova's National Title victory over Michigan, though, that could apparently change.
DiVincenzTo has morphed into a borderline household name over the past couple weeks, and his legend only grew on Monday night. He pumped in 31 points on a scintillating 10-of-15 shooting, including 5-of-7 from downtown, en route to helping the Wildcats cut down the nets for the second time in three years.
Naturally, on the heels of that victory, people were immediately asking whether DiVincenzo should consider declaring for the NBA draft. While he hasn't thought that far ahead, others have on his behalf, per Yahoo Sports' Pete Thamel:
By the end of a night that was equal parts dominating and dizzying, a question arose that few outside NBA front offices had seriously considered before Monday night: Should DiVincenzo declare for the NBA draft? "I'm not focused on any of that right now," he said when asked about the NBA after the game. "I'm just trying to enjoy this moment with these guys."

Yahoo Sports reached out to a handful of NBA scouts and executives in the wake of DiVincenzo's performance, and there's certainly interest in him around the NBA. "He had the game of his life," one veteran scout said in a text. "Helped him probably get some first-round looks."

There wasn't a consensus, as another scout predicted he'd be a late first-round pick and a third said he'd either go in the second or go undrafted. But no one argued the importance of shooting 5 of 7 from 3-point range, grabbing five rebounds and being what former teammate Josh Hart called "the best player on the floor." Added one scout: "I think [tonight] will have a large impact."
One night, one game, can often have an impact on a player's draft stock. We forget that. But the lack of a consensus on DiVincenzo suggests that fringe first-round looks would be going a little far. Yes, he drilled more than 40 percent of his threes for the season season on more than seven attempts per 36 minutes. And sure, there will always be a place for lights-out swingmen.
But he was barely on the draft-board radar before late March. Climbing into the first-round now would be a real shocker. Heck, with many people already lamenting the lack of depth in the 2019 draft class, it might make sense for DiVincenzo to return for his senior season and declare then.
What will he ultimately do? We don't know. But if he ends up declaring, you better believe he's received promises he'll get taken by some team somewhere. No way in this era of information and leaks does someone like him enter the draft without having a firm grasp on what awaits him.