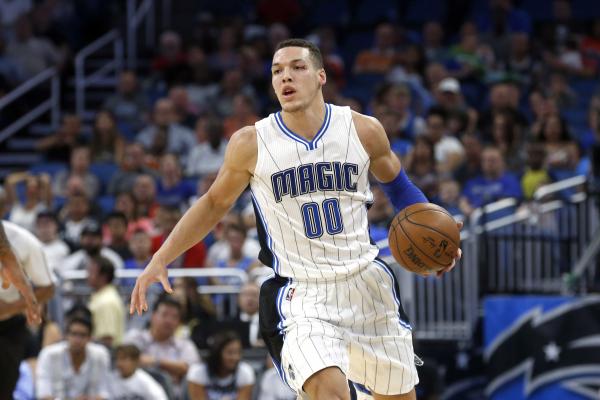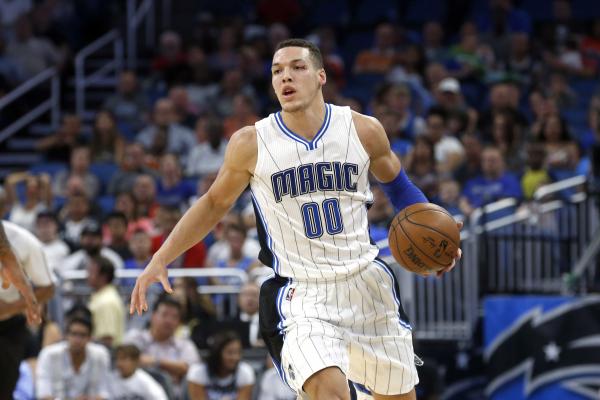 Aaron Gordon doesn't expect to be wearing a different jersey next season.
Though the 22-year-old will be the most sought-after restricted free agent of the summer, opening the door for over-the-top offer sheets, he believes he'll be a member of the Orlando Magic to start 2018-19, per Magic.com's John Denton:
With Aaron Gordon headed toward the uncertainty of restricted free agency, the talented 22-year-old forward could have been playing his final game with the Orlando Magic on Wednesday night – a potential proposition that he not only doubted, but also refused to entertain.

"Not even in the least bit,'' Gordon said. "It's a short time between the (June 21) draft and when free agents are available (July 1), but at the same time it's a long time if that makes sense. There's a lot that can happen within two-to-three months. But (Wednesday), I'm just looking to have fun.''
The prevailing thought around the league has been the Magic will match whatever money Gordon gets from another team. Restricted free agents are supposed to get squeezed in a cash-poor market, and the team would have surely shopped him harder at the trade deadline if it was sour on his future.
The Magic's decision to fire Frank Vogel doesn't change that. He was shown the door within 24 hours of the regular season's conclusion. The front office clearly had plans to can him for a while, probably even before the trade deadline.
Vogel's dismissal does admittedly show the Magic's new regime is trying to distance itself from the old one—hence why they jettisoned Elfrid Payton ahead of his own foray into restricted free agency. But Gordon is different. While he hasn't done enough to warrant cornerstone money, he hasn't flopped to the point that Orlando shouldn't pay him.
Plus, unless the Magic are uber confident in Jonathan Isaac or whomever they land in this year's draft, they have no alternative. Lose Gordon, and they lose their only incumbent shot at having a primary building block for the future.