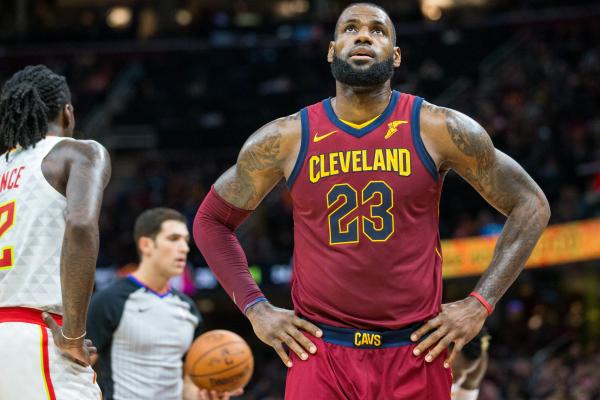 LeBron James wasn't trying to rile anyone up with his use of the Arthur meme on Instagram Monday night.
According to him, he was just being him, expressing his love for a children's television show. As he told reporters after the Cleveland Cavaliers' victory over the Milwaukee Bucks on Tuesday, per ESPN.com's Dave McMenamin:
LeBron James offered a tongue-in-cheek explanation for a social media post. Dwyane Wade offered a sincere apology to Cleveland fans. And the Cavaliers outlasted the Milwaukee Bucks124-119 on Tuesday night to climb back to within a game of .500 at 5-6.

James' name had been in the news over the previous 24 hours, less for his impending matchup with Giannis Antetokounmpo or tying Michael Jordan's career total of 1,072 games played, and more for an Instagram post featuring Arthur the Aardvark's clenched fist, which he published Monday night.

"I like Arthur," James said, when he was asked to explain the post after putting up 30 points, nine assists and eight rebounds against the Bucks. "That's OK, right?"
Yes, LeBron. It is totally okay that you like Arthur.
It's also totally okay that you're lying.
You don't upload the Arthur fist meme with the caption "Mood…" to show your appreciation for the show's existence. You do it to illustrate your frustration, to light a fire under the Cavaliers, to give the NBA and its media members something to talk about. (Thanks, by the way.)
And that, too, is okay.
Your cryptic social media posts have been part and parcel of the Cavaliers' season over the past three years. They now make up the fabric of the franchise's history and will continue to do so while you're wearing wine and gold. And this particular not-so-subtle post—no doubt incited by the team's sub-.500 record—appears to have worked, at least for a night. Jae Crowder still played like crud on offense, and Derrick Rose remains a pointless member of the team, but J.R. Smith shot the ball better, Kevin Love looked more engaged and Dwyane Wade, dare I say, looked a year or three younger.
So kudos, LeBron. Nicely done.
May you, as a reward, not have to tweet or Instagram or Facebook or Snapchat anything remotely cryptic for the next—ah what hell, I'm feeling generous—week or two.