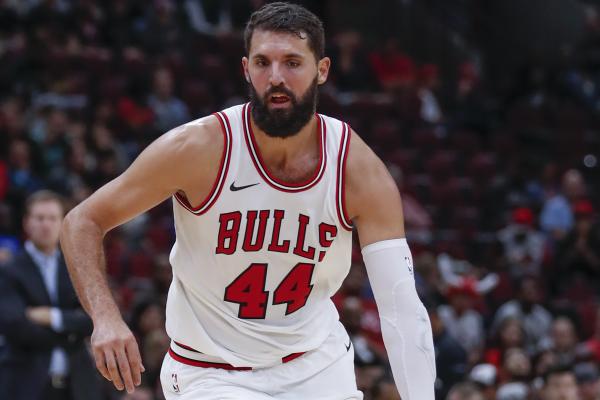 Things change quickly in the NBA.
Take the Nikola Mirotic and Chicago Bulls situation for example: Entering Thursday, it seemed the 26-year-old had no real desire to be traded out of The Windy City following an earlier altercation with teammate Bobby Portis that ended with the former suffering a concussion and facial fractures. This mattered, because Mirotic has inherent veto power in the two-year contract he signed over the summer. If he wants to stay with the Bulls, he can stay with the Bulls.
Except, now the word is he wouldn't veto a trade should Chicago broker one, according to the Chicago Tribune's K.C. Johnson:
First, coach Fred Hoiberg said Mirotic didn't get cleared via the league's concussion protocol after visiting a specialist on Wednesday.

Then, sources said Mirotic's camp has made clear to management that Mirotic wouldn't veto a trade, a change of heart for the forward who long has professed his and his family's desire to remain in Chicago. Mirotic has the right to veto a trade because the two-year, $27 million deal he signed in restricted free agency has a team option on the second year.

Whatever happens, this development speaks to the widespread belief surrounding the situation that Mirotic and Portis can't co-exist moving forward. In fact, one source said the situation is playing out toward a "me or him" trade demand.
It seems a little weird that this would all end with Mirotic, who cannot be dealt until after Jan. 14, getting traded. But maybe this is a matter of Portis, at 22, fitting the Bulls' timeline more than Mirotic. Or perhaps Chicago just can't move him after this debacle and doesn't want to take a bath by waiving him.
It always seemed like Mirotic could hit the chopping block before the trade deadline. The Bulls aren't trying to win, and by the time he's ready for his next contract, in 2019, he'll be well clear, at 28, of the team's youth movement. If they could get a first-round pick or prospect as part of a deal for his services, the assumption was they'd consider pulling the trigger.
Almost needless to say, though, no one could have seen things reaching this point—not this soon, before he's even eligible to be traded, and most definitely not in such disastrous fashion.