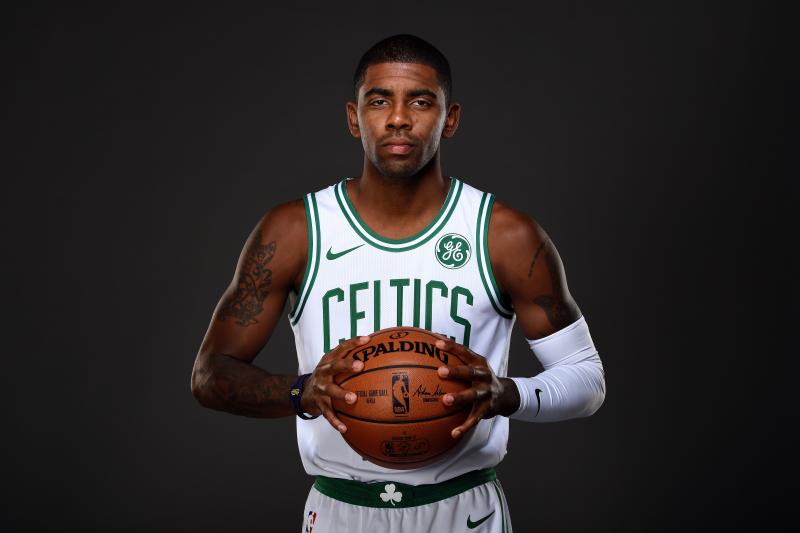 It was all a ruse.
Or so Kyrie Irving says.
Remember when he stirred up the masses by copping to being a flat-earth truther on the Road Trippin' podcast? Well, apparently, he was just kidding, as he told The Toucher and Rich Show:
Kyrie Irving just admitted to me that he was trolling everyone about that "flat earth" stuff. Hear the interview tomorrow at 8AM on T&R!

— Toucher and Rich (@Toucherandrich) September 25, 2017
Jaylen Brown is going to be so upset. He didn't necessarily commit to Irving's theory, but he came pretty damn close, it seems:
Jaylen Brown not ready to fully commit but he's leaning toward Kyrie's #FlatEarth theory. pic.twitter.com/snA3XNN5MQ

— Chris Forsberg (@ESPNForsberg) September 19, 2017
Er, maybe he was closer than close:
— Jaylen Brown (@FCHWPO) September 19, 2017
At any rate, we're now left to decide whether Irving was telling the truth then or at present. It's pretty convenient that he comes out after all the ruckus and backtracks his words. Then again, he's spent the past week or so "I don't care"-ing the media to death, so maybe he was, in fact, just trying to get a rise out everyone.
We may never know. Or perhaps we will. Maybe there will be more of a story to this later on. Perhaps it's completely dead now. Something tells me it isn't. This will be something that follows Irving, even as a joke, for quite some time. And if he was just playing, you have to think his teammates, both new and old, would have known. So kudos to guys like Richard Jefferson, Channing Frye and Brown for not busting up the joke—unless this isn't a joke, in which case they have nothing to mess up.
Good lord this is maddening. What is real anymore?